[ad_1]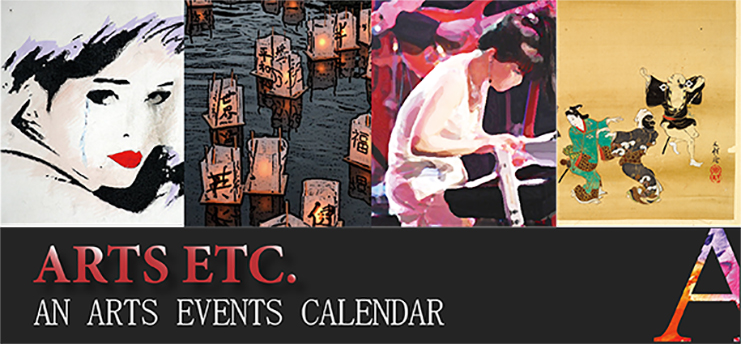 arts visuels
«Reprise» est une exposition de groupe qui revient sur l'héritage dommageable de notre politique de logement raciste légale jusqu'en 1968. Divers artistes ethniques locaux répondent à ce thème, y compris des travaux de Monyee Chau. Jusqu'en août 2019. SOIL Gallery au 112 – 3rd Ave.S.206-264-8061.
L'artiste de Seattle Romson Regarde Bustillo est finaliste dans la division «Open Media» pour un Neddy Cornish Award 2019. Tous les finalistes seront présentés dans une exposition de groupe au Cornish Playhouse cet automne. Les gagnants seront annoncés prochainement. Le Neddy at Cornish est financé par la Fondation Behnke et est géré par le Cornish College of the Arts en hommage au peintre et enseignant de Seattle Ned Behnke (1948 – 1989).
L'artiste visuelle multimédia Michelle Kumata présente une exposition de ses œuvres d'art au Tougo Coffee dans le quartier central de Seattle au cours du mois d'août. Allez sur www.tougocoffee.com. Elle a également une nouvelle installation artistique à l'hôtel de ville de Bellevue dans le cadre du Bellwether Art Festival du 13 au 22 septembre 2019 qui raconte l'histoire des agriculteurs japonais américains de Bellevue. L'artiste Erin Shigaki a également une installation de sculpture à l'hôtel de ville. (Vous pouvez voir son travail @purplegatedesign sur IG). Pour plus de détails sur le festival de 10 jours à Bellevue, rendez-vous sur https://bellwetherartsweek.org/. Kumata est également récipiendaire d'une subvention de projet 4Culture pour son projet de la diaspora brésilienne japonaise. Elle se rend à Sao Paulo à l'automne pour interviewer des membres de sa famille et, en 2020, elle parlera de son projet lors d'une présentation publique. Si vous êtes intéressé par les subventions 4Culture, rendez-vous sur https://www.4culture.org. Si vous souhaitez suivre le parcours artistique de Michelle Kumata, rendez-vous sur michellekumata.com ou suivez-la @michellekumata sur IG.
Davidson Galleries présente «Contemporary Northwest Print Invitational», une exposition de groupe mettant en vedette des œuvres de Moon Lee, Eunice Kim, Juliana Kang Robinson, Jueun Shen, Yoshiko Yamamoto et bien d'autres. Jusqu'au 31 août 2019. Une réception d'artiste est prévue le samedi 24 août de 15 h à 16 h 30. 313 Occidental Ave S. à Seattle. 206-624-7684 ou rendez-vous sur www.davidsongalleries.com.
«Magic Box: Defining Words in a Digital Age» est un spectacle du danseur / artiste de butoh Shoko Zama et du poète David Thornbrugh. Il s'agit d'un dialogue interdisciplinaire entre collage / peinture, évoquant des illustrations de dictionnaire et une écriture ékphrastique. Pendant les réceptions de la galerie et la journée communautaire, des danseurs butoh se produiront dans les vitrines. La réception du premier jeudi est le 5 septembre 2019 de 18h à 20h. Vue du 31 juillet au 28 septembre 2019. 603 S. Main St. à Seattle. Allez sur www.thisisbonfire.com pour plus de détails.
«The Modern Youth Identity» est une exposition de groupe organisée par les adolescentes Alice Mao et Taylor Wang qui espèrent rassembler le travail de leur lycée et de leurs jeunes adultes pour ce spectacle à Seattle Artist League. Voici des informations sur ce qu'ils espèrent réaliser de leur déclaration. «Nous voulons donner aux artistes défavorisés une chance de briller, sans avoir à se soucier des coûts. Ça va être passionnant de gérer toutes les illustrations. Il s'agit d'un événement à but non lucratif, et nous travaillons en tant que bénévoles pour présenter ce spectacle parce que nous savons, en tant que jeunes artistes nous-mêmes, que nous apprécierions vraiment ce type de spectacle. Ce sont souvent des événements comme ceux-là au début de la carrière des artistes qui leur donnent confiance et les font avancer. » Pour plus de détails, rendez-vous sur studentartspaces.com ou par e-mail [email protected] À l'affiche du 31 août au 3 septembre 2019. 10219 Aurora Ave.
«Quiet Hour: The Photography of Yukio Morinaga (1888 – 1968)» est la première exposition personnelle du photographe de Seattle Yukio Morinaga. Il était un membre important du Seattle Camera Club, un groupe créé par le Dr Kyo Koike, composé principalement de membres japonais spécialisés dans l'école du pictorialisme. Dans les années 1920, son travail a remporté des prix dans de nombreux concours nationaux et internationaux. Il y avait une sensibilité poétique et soyeuse dans son travail qui capturait l'humeur des rues au début du début du siècle à Seattle. Visible jusqu'au 13 octobre 2019. Cascadia Museum à Edmonds, WA. 190, avenue Sunset 425-336-4809.
Le travail de l'artiste Tacoma Fumiko Kimura est inclus dans une exposition de groupe intitulée «Départs et arrivées: artistes en abstraction» maintenant visible jusqu'au 29 septembre 2019. Bainbridge Island Museum of Art. 550 Winslow Way sur Bainbridge Island. 206-842-4451 ou rendez-vous sur www.biartmuseum.org.
L'artiste de Seattle Tara Tamaribuchi présente une installation de son projet Camouflage Net. Le travail fait de filets de camouflage et de tissu kimono a été inspiré par l'histoire des Américains japonais qui ont fabriqué des filets de camouflage pour l'armée américaine comme travail pénitentiaire pendant la Seconde Guerre mondiale alors qu'ils étaient eux-mêmes emprisonnés dans des camps de concentration. Une installation sera au Northwest African American Museum à Seattle jusqu'au 28 août 2019. Elle fait partie d'une exposition de groupe avec plusieurs boursiers du Pratt Fine Arts Center intitulée «Edwin T. Pratt: A Living Legacy» en l'honneur de la vie et l'esprit du défunt leader des droits civiques de la région de Seattle, Edwin T. Pratt. L'installation contient un élément sonore mettant en vedette les histoires orales des survivants des camps d'internement américains japonais qui ont fabriqué les filets et celle de Dennis Baumbauer qui a été enlevé d'un orphelinat et emprisonné à Manzanar pour être à moitié japonais. 2300 S. Massachusetts St. 206-518-6000 ou visitez naamnw.org. Pour plus de détails sur les travaux, rendez-vous sur www.tamaratamaribuci.com.
Aaliyah Gupta explore la cartographie et la topographie, créant un interrogatoire de la ruine et de la fragmentation dans son exposition solo intitulée «Topos». En exposition jusqu'en août 2019. CORE Gallery au 117 Prefontaine Place South. 206-467-4444 ou allez à [email protected]
Le travail de l'artiste de Washington Yoshiko Yamamoto est inclus dans une exposition de groupe intitulée «West Coast Woodcut: Contemporary Relief Prints by Regional Artists» présentée jusqu'au 15 novembre 2019. Maryhill Museum au 35 Maryhill Museum Dr. à Goldendale, WA. 509-773-3733.
Au KOBO à Higo dans le CID est le suivant – Il y aura deux ateliers floraux dirigés par Delinger & Radovich en septembre 2019. Les participants apprendront à créer leurs propres arrangements floraux personnels en utilisant la laque japonaise Heiando Traditional et spécialement fleurs conservées. «Fleurs préservées dans un cadre de boîte d'ombre» a lieu le samedi 14 septembre 2019 de 10 h à 14 h. Tous les outils, fournitures et châssis sont fournis au coût de 210 $. La taille des classes est limitée, donc l'inscription et le paiement doivent être effectués avant le 30 août 2019. «Fleurs préservées dans un atelier de boîte de laque Heiando japonaise» est le samedi 28 septembre 2019 de 10 h à 14 h. Tous les outils, fournitures et cadres sont inclus dans le coût de 210 $ de la classe. Le paiement doit être effectué avant le 14 septembre 2019. KOBO at Higo est ouvert tous les jours au 604 South Jackson St. 206-381-3000 ou [email protected]. Kobo a également une succursale sœur sur Capitol Hill au 814, rue East Roy, 206-726-0704.
Le sculpteur basé à Tacoma, June Sekiguchi, a visité le Laos il y a quelques années et cela a laissé une profonde impression. Si profonde qu'elle espère invoquer le puissant débit de la boue du Mékong dans les murs de la galerie, offrant aux visiteurs un pont pour la traverser également. Défini pour le mois d'octobre 2019. Galerie ArtXchange au 512 First Ave. S, 206-839-0327 ou [email protected].
Ahree Lee, basé à Los Angeles, est un artiste multimédia travaillant dans les installations vidéo, photographiques, sonores et interactives. Elle a une installation vidéo intitulée «Permutations» actuellement visible devant le campus de la Fondation Bill & Melinda Gates au 500 Fifth Ave. N., de 7h à 22h. Cette même installation apparaît également dans l'espace de la galerie multimédia de la boutique 4Culture au 101 Prefontaine Pl. S. Il sera en vue pendant un an. Cela fait partie de Storefront Media Gallery parrainé par 4Culture. 206-263-1588 pour plus de détails.
Le travail de Louise Kikuchi est inclus dans une exposition de paysage sur invitation de groupe intitulée «Lay of the Land» au cours du mois d'août, à savoir Gallery at 5800 Cains Court à Edison, WA. 360-488-3458 ou visitez www.ieedison.com.
Le Centre culturel de l'Asie-Pacifique présente chaque mois une exposition d'un artiste américain d'origine asiatique dans sa galerie.4851 South Tacoma Way à Tacoma. 253-383-3900 ou asiapacificculturalcenter.org.
Seattle Art Museum a les éléments suivants – Ouverture à la John McCone Gallery le 3rd Le 16 mars 2019, le plancher est «The Gentleman Warrior: Art of the Samurai» qui présente deux ensembles complets d'armures de samouraï, des peintures sur écran et une copie de la bataille légendaire entre les clans Tara et Minamoto. Au troisième étage de SAM, les démonstrations de la cérémonie du thé se poursuivent les troisièmes jeudis à 17h30 et les troisièmes dimanches à 14h30. Gratuit avec entrée. Les cérémonies du thé n'ont pas lieu en août. Accédez à visitesam.org/performs pour plus de détails. Le Seattle Art Museum est situé au 1300 First Ave.206-654-3210 ou essayez www.seattleartmuseum.org.
La galerie d'art Henry présente les éléments suivants: «Recto / Verso» présente des œuvres de l'artiste new-yorkaise Carrie Yamaoka jusqu'en octobre 2019. Elle rassemble des travaux du début des années 1990 à nos jours mettant en évidence des thèmes récurrents de (in) visibilité et perception. Les premiers travaux sont des explorations textuelles utilisant des photographies chimiquement modifiées. Également travail en cours réalisé avec du mylar réfléchissant et de la résine. Des travaux récents chevauchent les médias de la peinture, du dessin et de la sculpture. Yamaoka est un membre fondateur du collectif d'art queer connu sous le nom de chatte féroce. Situé sur le campus de l'UW Seattle à 15e Avenue NE + NE 4lst Street. 206-543-2280 ou essayez henryart.org.
Le Pacific Bonsai Museum bouscule cette tradition japonaise avec LAB (Living Art of Bonsai), une collaboration expérimentale pour l'innovation bonsaï. Ce projet est un re-séquençage dans l'ordre d'influence entre l'artiste bonsaï, céramiste et standiste. Le projet démarre en 2018 et se poursuit jusqu'en 2020. Une bande-annonce vidéo d'un film sur ce nouveau processus peut être visionnée sur http://www.bonsaimirai.com. D'autres spectacles incluent «Gnarly», un hommage au «renégat du bonsaï» Dan Robinson qui a aidé à créer la scène du bonsaï du Nord-Ouest avec ses conceptions innovantes. On verra également «L'art vivant du bonsaï: principes de conception» qui met l'accent sur les éléments clés de la forme d'art. Les deux émissions sont visibles jusqu'au 29 septembre 2019. Pour plus d'informations, rendez-vous sur http://www.pacificbonsaimuseum.org. Le Pacific Bonsai Museum est au 2515 S. 336e St. dans Federal Way, WA. 206-612-0026 pour information.
«Split Stone (Northwest)» de Sarah Sze est le dernier ajout à la collection Outdoor Sculpture Garden de la Western Washington University, visible sur divers sites autour du campus. Comprend également des travaux de Do Ho Suh, Isamu Noguchi, Richard Serra et bien d'autres. 516 High St. Bellingham, WA. 360-650-3963. Allez sur WesternGallery.wwu.edu pour plus de détails.
Le Portland Art Museum présente les éléments suivants: – pour la première fois au musée, des peintures à l'encre de Corée de la collection Mary et Cheney Cowles. Datant du 16e au début du 20e siècle, ces peintures montrent les humeurs expressives des animaux dans le paysage. «Squirrels, Tigers and Towering Peaks» est à l'affiche jusqu'au 17 octobre 2019. «Dramatic Impressions – Japanese Actor Prints» est une exposition de groupe d'estampes sur bois d'acteurs sur la scène kabuki, à l'affiche jusqu'au 13 octobre 2019. 1219 S.W. Park Ave.503-226-2811 ou essayez [email protected].
Le musée des arts de Bellevue avait auparavant une rétrospective pour feu N.W. artiste joaillier Ron Ho. Ils suivent avec « Ron Ho: A Jeweler's Tale » qui examine de plus près ses inspirations et comment ses racines chinoises et les cultures du monde ont influencé et alimenté son propre travail. Avec une reconstruction de son studio et la projection d'un nouveau documentaire intitulé « Ron Ho: devenir chinois, conte d'un bijoutier ». À découvrir jusqu'au 15 septembre 2019. 510 Bellevue Way. 425-519-0770 ou rendez-vous sur bellevuearts.org.
Les spectacles et activités nouveaux et récents à The Wing comprennent ce qui suit – «Excluded, Inside the Lines» est à l'affiche jusqu'au 23 février 2020. Il dévoile l'histoire de la redlining et l'impact sur les communautés minoritaires. «Un dragon vit ici», la partie 4 de la série d'expositions Bruce Lee est en cours. Cette partie finale met l'accent sur les racines de Bruce Lee à Seattle et sur la façon dont cette région a joué un rôle clé dans le façonnement de Lee et sa carrière révolutionnaire. L'exposition «Je suis philippin» est en cours. L'heure du conte pour les tout-petits fixée aux jeudis à 11h a toujours des événements centrés sur un livre pour enfants et une activité artistique par la suite. Un nouvel ajout à la visite quotidienne de l'hôtel, The Wing, est «APT 507», qui raconte l'histoire d'Au Shee, une immigrante chinoise qui a aidé à construire le quartier chinois de Seattle. Son salon est interactif avec des objets destinés à être ressentis, ouverts et expérimentés. «Worlds Beyond Here: The Expanding Universe of APA Science Fiction» est une émission qui reste en vue jusqu'au 15 septembre 2019. Des acteurs à l'écran aux écrivains, créateurs, artistes et animateurs en coulisses, découvrez l'impact de l'Asie-Pacifique Les Américains ont eu et continuent d'avoir dans la science-fiction. Un mélange d'œuvres littéraires et de culture pop aide les téléspectateurs à voir comment la science-fiction reflète l'époque dans laquelle ils ont été écrits. Elle aborde des questions liées à l'identité, l'immigration et la race, la technologie, la moralité et la condition humaine. Organisé par Mikala Woodward. Comprend des travaux de Tamiko Thiel, Simon Kono, June Sekigiuchi, Stasia Burrington, des reliques du personnage Sulu de George Takei sur Star Trek, des clips et des images fixes du film, Arrivée "basé sur l'histoire de l'écrivain Bellevue Ted Chiang et bien plus encore. Une exposition de groupe provisoirement intitulée «Logement ouvert» montre comment les membres de la communauté dans la zone centrale, Chinatown-ID et le sud-est de Seattle se réunissent pour explorer comment les restrictions raciales sur l'endroit où les gens pourraient vivre ont façonné le Seattle que nous connaissons aujourd'hui et définir une vision de ces quartiers pour le 50 prochaines années. Jusqu'au 16 février 2020 dans la zone de l'initiative Nouveaux dialogues. Carina del Rosario organise une exposition intitulée «Grand angle / gros plan: un autoportrait de la communauté américaine des îles asiatiques du Pacifique» du 10 mai 2019 au 19 avril 2020. Comprend des photographies, des vidéos et des installations photographiques de photojournalistes qui documentent la communauté de l'intérieur. Ensemble pour la galerie George Tsutakawa. « Chinatown dans les années 1970 » recrée le quartier chinois de Seattle dans les années 1970 et explore les valeurs et les coutumes qui continuent de façonner le quartier aujourd'hui. 20 juillet 2019-5 janvier 2020 dans la galerie KidPLACE. Le musée est situé au 719, rue South King (206) 623-5124 ou visitez www.wingluke.org. Fermé le lundi. Du mardi au dimanche de 10h à 17h. Le premier jeudi de chaque mois est gratuit de 10h à 20h. Le troisième samedi de chaque mois est gratuit de 10h à 20h.
La poète Jane Wong, qui enseigne actuellement à l'Université Western, entre dans un nouveau domaine avec une première exposition centrée sur la famille intitulée «Après la préparation de l'autel, les fantômes se régalent fiévreusement» au Frye Art Museum de Seattle. Wong explore les thèmes de la faim et du gaspillage et leur signification pour les familles immigrées. Attendez-vous à des autels, des poèmes de sculpture et des textes qui évoquent une enfance du New Jersey dans le restaurant chinois que ses parents dirigeaient. Si elle peut faire avec des images ce qu'elle fait avec des mots, ce spectacle ne manquera pas de hanter. Visible jusqu'au 1er septembre 2019. 704 Terry. 206-622-9250 ou rendez-vous sur fryemuseum.org.
«Key to the Collection» est une exposition de groupe qui a ouvert ses portes le 22 décembre 2018 et qui permet à TAM de montrer certains des cadeaux précieux de leur collection, y compris leur héritage d'estampes japonaises sur bois et divers autres articles. Visages familiers et nouvelles voix: arpenter l'art du Nord-Ouest »reste visible tout au long de l'été 2019. Cette exposition de groupe est une promenade chronologique à travers l'histoire de l'art du Nord-Ouest, illustrée par les œuvres d'artistes notables de chaque période ainsi que par des artistes moins connus mais des chiffres tout aussi importants. Différentes œuvres seront présentées tout au long de ce spectacle. Comprend le travail de Patti Warashina, Roger Shimomura, Joseph Park, Alan Lau (divulgation complète, c'est moi) et bien d'autres. Musée d'art de Tacoma au 1701, avenue Pacific 253-272-4258 ou par courriel [email protected] ou rendez-vous sur www.TacomaArtMuseum.org.
« Une valeur de mille mots: les auteurs de Washington racontent des histoires du Nord-Ouest à travers des artefacts historiques » est une exposition de groupe dans laquelle la Washington State Historical Society a demandé aux écrivains du Nord-Ouest de choisir quelques artefacts historiques pour raconter des histoires. Le résultat final est comme retirer des livres d'une étagère et lire des histoires qu'ils racontent. Les auteurs de Washington Shawn Wong, Jamie Ford, John Okada et Frank Abe sont inclus. Visible jusqu'au 24 août 2019. 1911 Pacific Avenue à Tacoma. 1-888-BE-THERE. Pour plus de détails, rendez-vous sur www.washingtonhistory.org/1000words.
La Pilchuck Glass School a publié son catalogue de programmes 2019. Certains des instructeurs qui y enseignent en juillet / août comprennent Anjali Srinvasan, Ranjit Bhatnagar, Aya Oki et Kentaro Yanagi. Allez sur pilchuck.com pour plus de détails.
«Terre de joie et de tristesse: les pionniers japonais de la vallée de Yakima» est une exposition en cours qui retrace l'histoire des familles japonaises qui se sont installées dans la vallée de Yakima. Yakima Valley Museum au 2105 Tieton Dr. à Yakima, WA. 509-248-0747.
Le Portland Chinatown Museum a les éléments suivants – Dans la galerie permanente est « Beyond the Gate: A Tale of Portland's Historic Chinatowns ». À l'affiche jusqu'au 1er septembre 2019, les photographies de paysages de Jeff Lee sur l'Asie du Sud-Est et le Pacifique Nord-Ouest juxtaposées à une petite collection de paysages de rue de Portland et de compositions abstraites de son père Eugene Lee, né près de Chinatown. 127 NW Third Ave.503-224-0008 ou par courriel [email protected].
La galerie Blackfish à Portland présente les éléments suivants: «Mami Takahashi: ma parole est difficile à entendre en 2019», qui est une enquête sur la communication voilée dans l'espace public. Jusqu'au 31 août 2019. 420 NW 9e 503-224-2634 ou rendez-vous sur blackfish.com.
Le sculpteur de longue date de Portland, Michihiro Kosuge, présente une nouvelle œuvre à la Russo Lee Gallery de Portland du 1er au 31 août 2019. 805 NW 21st 503-226-2754 ou rendez-vous sur russoleegallery.com.
Oregon Nikkei Legacy Center présente ce qui suit – Jusqu'au 22 septembre 2019 sera une exposition de musée qui couvre l'histoire de 25 ans de Portland Taiko dans la région intitulée «Portland Taiko 25e Exposition anniversaire ». À partir de cette année, les visiteurs peuvent voir de près les artefacts de la collection car les piles seront ouvertes pour voir pendant que le personnel fait le classement. 121 NW Second Ave. à Portland. 503-224-1458 ou visitez www.oregonnikkeir.org.
Le jardin japonais de Portland a ce qui suit – Un événement intitulé « Geisha: démêler l'art et le mystère » est prévu pour le 4 septembre 2019 à 16h. Trois geisha authentiques de Kyoto ainsi que l'expert en geisha Peter MacIntosh présentent une conférence et une performance. Inauguration le 5 octobre et visible jusqu'au 1er décembre 2019 est «Noritaka Tatehana: Refashioning Beauty», une exposition d'art contemporain multidisciplinaire inspirée par la tradition japonaise, l'esthétique et la sensibilité à la nature. 611 SW Kingston Ave. à Portland, Oregon. 503-223-1321 ou rendez-vous sur japanesegarden.org.
Le Jordan Schnitzer Museum of Art situé sur le campus de l'Université de l'Oregon à Eugene présente les éléments suivants – Les expositions à venir incluent les éléments suivants: «Ombres évocatrices: art de la mezzotinte japonaise» est visible jusqu'au 30 août 2020. Ce spectacle célèbre la histoire de ce genre qui produit une large gamme tonale de noirs profonds à travers des blancs brillants. «Kwang Young Chun: Aggregations» du 24 août 2019 au 28 juin 2020. Cet artiste sud-coréen combine des centaines de parcelles de papier pour créer des compositions sculpturales qui ressemblent à des formations cristallines, des astéroïdes de la surface de la lune. 1430 Johnson Lane in Eugene, Oregon. 541-346-3027.
La galerie d'art de Vancouver présente ce qui suit: en exposition jusqu'au 2 septembre 2019, «Moving Still: Performative Photography in India» qui explore les thèmes de la migration, du genre, de la religion et de l'identité nationale à travers l'objectif de la photographie performative. Organisé par Diana Freundi et Gayatri Sinha. 750 rue Hornby Vancouver BC Canada. 604-662-4719.
Le musée du Centre culturel chinois présente l'exposition en cours «Génération en génération – Histoire des Canadiens d'origine chinoise en Colombie-Britannique». 555, rue Columbia Vancouver, BC. 604-658-8880. Entrée par don.
La galerie d'art du Grand Victoria présente les éléments suivants: à l'affiche jusqu'au 15 septembre 2019: «Imagining Fusang: Exploring Chinese and Indigenous Encounters», une exposition de groupe où les artistes explorent et spéculent sur les premières rencontres et interactions entre les peuples autochtones et les communautés chinoises qui se sont établies sur l'île de Vancouver. Proposée par Haema Sivanesan.1040 Moss St. à Victoria, BC. 250-384-4171 ou visitez aggv.ca.
Le photographe de la région de la baie Michael Jang présente une exposition majeure intitulée «Michael Jang's California», du 27 septembre 2019 au 18 janvier 2020. Présenté et organisé par Sandra S. Phillips, conservatrice émérite SFMoMA de la photographie. Il explore la carrière de l'artiste en tant que photographe de rue portraitiste en Californie en mettant l'accent sur ses premiers travaux alors qu'il découvrait les médias. La réception d'ouverture aura lieu le 28 septembre 2019 à 17h. À la Fondation McEvoy pour les arts située au 1150 – 25e St., Building B à San Francisco. 415-580-7605 ou essayez [email protected]. Un livre sur son travail intitulé « Qui est Michael Jang? » sera publié par Atelier Editions.
Le Musée d'art asiatique de San Francisco présente les éléments suivants: «Connexion contemporaine: Tanabe Chikuunsai IV», qui comprend une grande installation sculpturale en bambou jusqu'au 25 août 2019. «Changer et changer les choses: Noguchi et Hasegawa dans le Japon d'après-guerre», vue le 27 septembre. 2019 – 18 décembre 2019. Il s'agit d'un moment charnière pour les deux artistes. Noguchi retournait au Japon après de nombreuses années et Hasegawa avait passé de nombreuses années en Europe. Ensemble, ils ont discuté des nombreuses possibilités de combiner la tradition japonaise avec des influences extérieures qu'ils avaient découvertes au cours de leurs voyages. Noguchi concevra ensuite de grandes installations sculpturales permanentes à travers le monde et Hasegawa deviendra une forte influence du «Beat Movement» d'inspiration zen américaine. Ouverture le 26 novembre 2019 et à l'affiche jusqu'au 22 mars 2020 est «Lost At Sea: Art Récupéré des Naufrages». 200, rue Larkin 415 581-3500.
Le musée d'art de Berkeley présente ce qui suit – «Divine Women, Divine Wisdom» est visible jusqu'au 12 janvier 2020. Il présente des œuvres d'art d'Asie du Sud et de la région himalayenne qui célèbrent la sagesse, le pouvoir et la compassion des femmes dans le contexte de l'hindouisme et de l'hindouisme. Traditions bouddhistes. «Meditation in Motion: Zen Calligraphy from the Stuart Katz Collection» à l'affiche jusqu'au 20 octobre 2019. Des œuvres importantes de moines chinois Obaku qui ont immigré au Japon et le travail de moines japonais qui ont développé leurs exemples.155 Centre St. à Berkeley , CALIFORNIE. 510-642-0808 ou allez à [email protected].
«Future IDS at Alcatraz» est un projet, une exposition et une série de programmes publics mensuels présentés dans le nouveau bâtiment des industries sur l'île d'Alcatraz jusqu'en octobre 2019. L'installation présente des œuvres d'art inspirées de l'ID créées par et avec des personnes ayant des antécédents de conviction. comme ils conçoivent et développent une vision pour un moi futur. En contraste frappant avec les pièces d'identité délivrées en prison, ces œuvres d'art représentent des histoires individuelles de transformation. L'artiste Gregory Sale dirige une équipe de collaborateurs qui traduit les efforts de réforme de la justice pénale dans un langage visuel pour faire évoluer la réflexion sur la réadaptation, la réintégration et la réintégration. L'équipe comprend le Dr Luis Garcia, Kirn Kim, Sabrina Reid, Jessica Tully, Sale et bien d'autres. Présenté en partenariat avec le programme Art in the Parks du National Park Service, le Golden Gate National Parks Conservancy et le Headlands Centre for the Arts. Le projet et l'espace d'exposition ont été conçus pour fonctionner comme une plateforme d'engagement à travers des performances, des ateliers et des expériences de dialogue civique qui sont co-organisés avec des partenaires communautaires. Le troisième samedi de chaque mois, il y aura un programme d'une journée de programmes participatifs. L'entrée à cette exposition s'accompagne de votre billet de croisière en bateau pour l'île. Le ferry part du Pier 33 Alcatraz Landing. Pour les billets, visitez AlcatrazCruises.com. Pour en savoir plus sur le projet, rendez-vous sur GregorySaleArt.com ou FutureIDs.com.
Le LACMA ou Los Angeles County Museum of Art a ce qui suit – «L'attrait de la matière: l'art matériel de Chine» rassemble des travaux des quatre dernières décennies au cours desquels le choix conscient du matériau est devenu un symbole de l'expression individuelle des artistes. Certains des artistes chinois les plus influents d'aujourd'hui sont inclus dans les œuvres de Xu Bing, Cai Guo-Qiang, Lin Tianmao et Ai Weiwei. Cette exposition itinérante est présentée ici avant de se rendre au Smart Museum of Art de Chicago, au Seattle Art Museum (du 25 juin au 13 septembre 2020) et au Peabody Essex Museum de Salem, Mass. Une exposition d'art coréen, qui comprend des peintures, des céramiques , les textiles et l'art bouddhiste sont exposés jusqu'au 27 juillet 2019. «Power of Pattern: Ikats d'Asie centrale de la collection Reisbord» jusqu'au 28 juillet 2019. «Beyond Line: The Art of Korean Writing» est le premier spectacle en dehors de l'Asie se concentrer sur l'histoire de l'écriture et de la calligraphie en Corée. Visible jusqu'au 29 septembre 2019. 5905 Wilshire Blvd. 323-857-6010.
Le Musée national américain japonais propose les expositions suivantes: «Terrain d'entente: le cœur de la communauté». Cette exposition générale de l'histoire japonaise américaine est en cours. Jusqu'au 20 octobre 2019, c'est «À la première lumière: l'aube de l'Amérique du Pacifique asiatique». Cette exposition multimédia célèbre et explore l'émergence d'une conscience et d'une identité asiatiques et américaines politiquement définies. Il s'appuie sur les archives de Visual Communications et le musée lui-même. 100 N. Central Ave. à Los Angeles. 213-625-0414 ou visitez http://www.janm.org.
«Chiura Obata: An American Modern» est la première rétrospective de cet artiste de la région de la baie dont le travail reflète les gloires du paysage américain du Grand Canyon à Yosemite. Son influence se faisait également sentir à l'UC Berkeley où il avait une brillante carrière d'enseignant. Il a également aidé à fonder des écoles d'art dans des camps d'internement pendant la Seconde Guerre mondiale. Organisé par ShiPu Wang avec un catalogue. L'exposition se déplace sur les sites suivants. 23 juin – 29 septembre 2019 au Crocker Art Museum à Sacramento.
La galerie Freer / Sackler sur le Smithsonian Mall vous montre comment la religion et l'art se mélangent dans «Rencontre avec le Bouddha: art et pratique à travers l'Asie jusqu'au 29 novembre 2020. 202-633-1000 ou visitez FreerSackler.si.edu pour plus de détails.
Le Metropolitan Museum of Art a ce qui suit – « Kyoto: Capitole de l'imagination artistique » est visible jusqu'au 2 août 2020. Jusqu'au 27 octobre 2019 est une exposition majeure de sculptures du 18e & 19e siècle dans les îles du Pacifique intitulé «Atea: Nature et divinité en Polynésie». «Corée essentielle» jusqu'au 22 septembre 2019. «Ruisseaux et montagnes sans fin: traditions paysagères de la Chine» jusqu'au 4 août 2019. »Des enfants aux immortels: représentation figurative dans l'art chinois» jusqu'au 23 février 2020. 1000 Fifth Ave . New York, New York. Allez sur metmuseum.org pour plus de détails.
«Phenomenal Nature» est la première rétrospective de l'artiste indienne Mrinalini Mukherjee aux États-Unis. Elle explore l'engagement de longue date de l'artiste avec la fibre et ses incursions dans la céramique et le bronze, la nature et son enthousiasme pour la sculpture historique indienne, le design moderne, l'artisanat local et les traditions textiles. Voir à travers le 29 septembre 2019 au Met Breuer au 945 Madison Ave. à New York. 212-731-1675.
Le travail de Noritaka Minami et Alex Huanfa Cheng est inclus dans une exposition collective de photographie intitulée «Delicious Cities», l'exposition ouverte d'été 2019 mettant en vedette des talents internationaux. Visible jusqu'au 29 août 2019. Aperture Foundation au 547 West 27e St – 4e sol. 212-505-5555 ou allez sur aperture.org.
Le Rubin Museum of Art présente les spectacles suivants: «Chargés de bénédictions de Bouddha – Reliques d'un ancien stupa» est visible jusqu'au 8 juin 2020. «Les chefs-d'œuvre de l'art himalayen» sont visibles jusqu'au 23 mars 2020. «Le pouvoir de Intention – Réinventer la roue (de prière) »rassemble des exemples choisis d'art traditionnel et contemporain pour éclairer la relation entre nos intentions, nos engagements et nos actions. Visible jusqu'au 14 octobre 2019. «La roue des intentions» est une installation interactive visible jusqu'au 6 janvier 2020. «Passerelle vers l'art himalayen» est visible jusqu'au 8 juin 2020. «Projets de la salle du sanctuaire: vœux et Offrandes »est visible jusqu'au 16 septembre 2019.« La salle du sanctuaire bouddhiste tibétain »est visible jusqu'au 16 septembre 2019.150 W. 17e Saint New York, New York. 212-620-5000 × 344 ou allez sur rubinmuseum.org.
La Japan Society a ce qui suit – Ouverture le 11 octobre 2019 et visible jusqu'au 6 janvier 2020 est « Made in Tokyo: Architecture And Living, 1964/2020 » qui examine comment Tokyo a changé son architecture depuis les Jeux olympiques d'été de 1964 jusqu'à sa préparation pour l'événement 2020. 333 Est 47e Saint New York, New York. 212-263-1258.
Le Musée des Chinois en Amérique a ce qui suit – «Avec une seule étape: Histoires dans la fabrication de l'Amérique» raconte l'histoire du musée jusqu'au 31 décembre 2020. Jusqu'au 15 septembre 2019 est «La lune représente mon cœur: Music And Belonging »qui explore la tradition de la musique dans les communautés chinoises. 215 Center St.New York, NY. 855-955-MOCA ou rendez-vous sur mocanyc.org.
L'Asia Society Museum de New York présente les «chefs-d'œuvre de la collection de l'Asia Society Museum», une exposition de groupe présentée en août 2019. Le 10 septembre 2019 ouvrira les expositions suivantes – «Xiaoze Xie: Objects of Evidence» qui regarde son travail en se concentrant sur les livres interdits. Wang Dongling: Ink in Motion « est une œuvre de calligraphie à grande échelle réalisée par l'un des calligraphes vivants les plus célèbres de Chine. » In Focus: Lakshmi »examine l'importance et le culte de cette déesse bien-aimée qui fait partie d'une culture hindoue complexe. Pour en savoir plus, rendez-vous sur AsiaSociety.org/NY. 725 Park Avenue, New York City, New York. 212-327-9721 ou visitez www.asiasociety.org pour plus de détails.
Le musée Noguchi a les éléments suivants – «Rotating Objects» de Gabriel Orozco dans lesquels l'artiste prend des objets japonais et les embellit dans son propre style en vue jusqu'en août 2019. «Changing And Unchanging Things» Noguchi & Hasegawa in Postwar Japan »avec ceci rencontre historique au Japon après la Seconde Guerre mondiale entre deux artistes influencés par la tradition japonaise et le modernisme occidental et comment créer une nouvelle fusion des deux. 1er mai – 14 juillet 2019. 9-01 33rd Rd, Long Island City, NY. 718-204-7088.
La China Institute Gallery présente «L'art de la montagne: à travers l'objectif du photographe chinois» en exposition jusqu'au 28 août 2019. Située au 100, rue Washington (l'entrée des visiteurs se trouve au 40, rue Rector le 2Dakota du Nord étage) à New York. 212-744-8181 ou rendez-vous sur www.chinainstitute.org. Après ce dernier spectacle, l'espace sera fermé pendant quelques années pour rénovation.
Tallur L. N. est un sculpteur indien qui combine les traditions artisanales indiennes et les nouvelles techniques de sculpture pour infuser l'iconographie ancienne avec des significations contemporaines. "Multiplicity"  is a show that has around thirty works in a variety of mediums, from carved stone and wood to cast bronze and concrete to found objects. Through Jan. 5, 2020. Grounds for Sculpture at 80 Sculptors Way  in Hamilton, New Jersey.609-586-0616 or [email protected] for sculpture.org.
Museum of Fine Arts Boston has the following – "Conservation In Action: Japanese Buddhist Sculpture In a New Light" is a rare look at the conservation of seven Buddhist sculptures. On view through June 30, 2020. 465 Huntington Ave. Go to mfa.org or call 617 -267-9300.
"Painting the Classics: Japanese Screens" through Nov. 17, 2019. "Power in S.E. Asia" is ongoing. "Sacred Dedication: A Korean Buddhist Masterpiece" is on view from Sept. 21, 2019 through March 22, 2020. "My Iran: Six Women Photographers" is on view August 10, 2019 through Feb. 9, 2020. All at the Freer/Sackler Gallery on the Smithsonian Mall in Washington D.C.
The Duncan Phillips Collection presents "Intersections – Earth Songs for a Night Sky" which includes sculptures and installations by Ranjani Shettar in dialogue with work by Kandinsky and Klee in the permanent collection. Through August 25, 2019. 1600 21st St. NW in Washington D.C. 202-387-2151.
The Peabody Essex Museum has the following – "Japanomania! Japanese Art Goes Global" through Jan. 3, 2021.  "Mega City: India's Culture of the Streets" on view through June 28, 2020. "Double Happiness: Celebration in Chinese Art" through Jan. 3, 2020. Opening June 22, 2019 and remaining on view through Jan. 19, 2020 is Kimsooja's "Archive of Mind." This is a participatory installation with visitor assistance that builds over the course of the exhibit. Museum visitors are encouraged to sit at the space and form a fall of clay with their own hands. Thousands of clay spheres will be generated through small individual gestures that reveal the emotional traces of their makers and cumulatively generate a complex array of texture, scale and tone.  Opening June 1, 2019 and remaining on view through May 17, 2020 is "A Lasting Memento: John Thomson's Photographs Along the River Min". Scotsman John Thomson is considered to be one of the first photographers to document East and South Asia. This exhibit takes us back to an earlier time. It features more than 40 landscapes, city views and portrait studies. The show is complemented by a selection of photographs by contemporary artist Luo Dan who was inspired by Thomson to undertake his own journey in Southwestern China in 2010. 161 Essex St. in Salem, Massachusetts. 816745-4876 or go to pem.org.
A show of prints by the late Seattle artist Munio Makuuchi is set from August – December, 2019. Art historian Margo Machida will write the catalog essay. 20 Elm St at Bedford Terrace in Northhampton, MA. 413-585-2760 or go to [email protected].
The Minneapolis Institute of Art has the following – "An Art as Lyrical as Poetry: Recently Acquired Chinese Paintings through Nov. 24, 2019. "All Flowers in Bloom: Porcelains from China's Last Dynasty through Nov. 10, 2019. "Romance And Heroism: Theatrical Robes from Late Imperial China through Sept. 29, 2019. "Nature in Monochrome: Birds And Flowers in Japanese Ink Paintings from Sept. 29, 2019 to Oct. 27, 2019. "Living Rooms Made in China: The McFarlane Room Wallpaper on view through Dec. 29, 2019. "Artists Respond: American Art And The Vietnam War, 1965 – 1975 from Sept. 29, 2019 – Jan. 5, 2020. Minneapolis  Institute of Art. 2400 Third Ave. S. Call toll free at 888-642-2787.
"Gods in Any House: Chinese New Year with Ancestor Portraits and Deity Prints" is  on view though Sept. 29, 2019.  Royal Ontario Museum at 100 Queens Park in Toronto, Ontario, Canada. Go to rom.on.ca for details.
Bamboo artist Tanabe Chikuunsai IV has a large bamboo installation on view through August 24, 2019 at Tai Modern at 1601 Paseo de Peralta in Santa Fe, New Mexico. 505-984-1387 or go to taimodern.com.
The Nikkei National Museum & Cultural Centre in Burnaby BC Canada has undergone some renovation and restructuring and presents a show entitled "Nikkei" which juxtaposes archives and artworks and includes stories, personal items, digitized "heritage" film footage and Cindy Michizuki's video installation to examine what it means to be a person of Japanese ancestry. 6688 Southoaks Cres. 604-777-7000. Go to centre.nikkeiplace.org.
"Journeying Through Chinatowns" includes work by three Vancouver photographers who try to capture the present-day conditions of historical Chinatowns in Vancouver. Work by Rennie Brown, Jonathan Desmond and Kayla Isomura. Through Sept. 1, 2019. Dr. Sun Yat-Sen Classical Chinese Garden. 578 Carrall St.  604-662-3207 or try vancouverchinesegarden.com
"Shadows, Strings and Other Things: The Enchanting Theatre of Puppets" is a cross-cultural exhibition with puppets from more than 15 countries in Europe, Asia and the Americas. Through Oct. 14, 2019. Museum of Anthropology  at UBC. 6393 NW Marine Drive. 604-822-5087 or go to moa.ubc.ca.
On view from August 22 – Oct. 27, 2019 is "Anno's Journey: The World of Anno Mitsumasa" at Japan House in London. It explores the work of one of Japan's greatest children's book illustrators and authors, best known for his picture books, with few or no words. The exhibition illustrates his life and creative journey with samples of varied work.   101-111 Kensington High St. 44-20-3972-7100 or try [email protected]. In addition, the Embassy of Japan in London will host an exhibition of his landscape paintings from August – Sept., 2019.
Tokyo Opera City Art Gallery has the following shows. Through Sept. 23, 2019 will be a retrospective on the art of Julian Opie, works by Ikeda Ryoji and Suematsu Yukari. 3-20-2 Nishi-Shinjuku, Shinjuku-ku, Tokyo,Japan. +81- (0) 3-5353-0756.
National Museum of Modern Art, Tokyo has a show of works from their collection on view until Oct. 20, 2019. The show features currents in Japanese modern and contemporary art from the beginning of the 20e century to the present. 1-1 Kitanomaru-koen, Chiyoda-ku, Tokyo, Japan. +81 3-5777-8600.
The Mori Art Museum has the following – Coming up is the highly anticipated exhibition for Berlin-based installation artist Shiota Chiharu entitled "Shiota Chiharu: The Soul Trembles" which is on view through Oct. 27, 2019. A show tentatively entitled "The Future And Arts" is set for Nov. 19, 2019 – March 29, 2020. T106-6108, Tokyo, Minato City, Roppongi, 6 Chome – 10-1 Japan. +81  3-5777-8600.
"teamLab*Borderless" houses works by this hi-tech art group in the Mori Building Digital Art Museum. With computer-graphic projections of animals, plants and objects from nature to  light sculptures and a forest of lamps. On view indefinitely. Aomi Station, Odaiba, Tokyo, Japan. 03-6406-3949.
Locally the Frye Art Museum was able to acquire some new works for its collection courtesy of the Seattle Art Fair's "Artworks For Permanent Collection" Fund. Among the newly acquired works was a multimedia piece by Seattle artist Ko Kirk Yamahira from Russo Lee Gallery. Also one of this year's performers at the Art Fair was social media sensation Bread Face who brought her signature videos to life with intimate bread smashing performances each day of the fair. In related news from the museum, Michelle Cheng has been appointed Director of Education And Community Partnerships. She was formerly Manager of Integration-Level Education Programs at Cooper Hewitt, Smithsonian Design Museum. This newly created role at the Frye "is an opportunity for the museum to deepen commitment to currently thriving initiatives, from school outreach to public programs to  our creative aging offerings as well as to ignite new and dynamic relationships witin our community" according to Director/CEO Joseph Rosa.
Los Angeles has the largest population of Korean americans and the biggest Koreatown in the United States but until now, there hasn't been a permanent museum to celebrate this culture. Now, a two story, 16,900 square-foot building by Morphosis Architects will be built in Koreatwon by 2022. The museum has an interesting merger of design influences. A garden and terrace will be grafted on to the top of the building with the help of DSK Landscape Architects. Under the rooftop, the museum will follow the classic courtyard plan of a traditional Korean house.
Performing Arts
The Theatre Battery in Kent presents Jessica Sian's live theatre adaptation of "Kiki's Delivery Service" by Eiko Kadono. Readers may be familiar with the hit anime film treatment of this by Studio Ghibli's Hayao Miyazaki. This is the first American production. Directed by Kathryn Stewart with a cast of Jessica Askew, Michael Cercado, Aimee Chou, Laura Dux, Shauntal Pyrer, Malix Reed and Funa Tautala. Enjoy this story of a 13 year old witch who flies away from home to start her own business in a small town. Performances through August 25, 2019. Weekends at 2pm and Fridays at 8pm.  Sat. performances will be ASL interpreted. All performances are free. Reserve your tickets through theatrebattery.strangertickets.com or take your chances on getting tickets at the door. Theatre Battery at Kent  Station next to Gentle Dental. 444 Ramsay Way in Suite 107 in Kent. Go to theatrebattery.com for  details.
"It Happened Here!" is a series of storytelling/local history talks presented by The Wing and InteriM CDA. Hear stories of the Chinatown/ID told by various speakers from various field every Wed. at noon in Hing Hay Park. Noted Seattle music critic/author Paul de Barros will talk about early jazz clubs in the community on August 23. On August 30, 2019 the author/educator Dr. Marie Wong will talk about Chinatown Hotels based on her recent book. The  Sept. 6 speaker  is TBA. 423 Maynard Ave. S.
On Friday, August 23, 2019 at 7:10pm, come celebrate "Filipino Heritage Night" and catch a Mariners baseball game with Toronto as well. All fans receive a limited-edition Filipino Heritage Mariners hat but you must purchase advance tickets before August 23 at noon. Stay after the game for a Fireworks Night. Call 206-346-4519 or go to mariners.com/Filipino.
Tibet Fest takes place at Seattle Center August 24/25, 2019. Free. Celebrate this rich, vibrant culture with performances, food, arts & crafts or make a sand mandala or learn about herbal medicine. 305 Harrison St. 206-684-7200.
The world-renowned Beijing Dance Academy under the direction of Seattle Director Li Hengda perform "The Butterfly Lovers" , a legendary love story Sept. 5 – 7 at McCaw Hall at Seattle Center. Enjoy an evening of classical Chinese dance. Go to www.ticketmaster.com or www.asianperformingart.org or call 206-605-6787/425-830-8054.
SIS Productions  presents a co-production with Pratidhwani, the Northwest premiere of "Washer/Dryer" by Nandita Shenoy on stage from September 5 – 22, 2019 at Theatre Off Jackson. It features a multi-cultural Asian American cast in a romantic comedy about "Crazy Poor Asians."  This is a contemporary comedy about newly-weds (an Indian American woman who has eloped with a Chinese American man) who find it a challenge to make a marriage work on a limited budget and the pressures of culture and tradition. The play was developed in the Ma-Yi Writers Lab and first produced by East West Players in Los Angeles. Directed by Agastya Kohli and stars Reeti Diwan, Kathy Hsieh, Elisabeth Ballstadt, Lee Yang and Van Lang Pham. Plays Fridays at 8pm, Saturdays at 4:30pm & 8pm and Sundays at 4:30pm plus Monday, September 16 at 8pm. No afternoon performance on Saturday, September 7. 409 7e Avenue South in Seattle's Chinatown/International District. Online tickets are available at https://www.strangertickets.com/events/97688832/washerdryer-by-nandita-shenoy. Discount rates available for groups or tickets purchased online by August 31. For more information, email [email protected]
The Mukai Japanese Garden and Mukai House on Vashon Island is a non-profit formed around the original house and garden of one of the first Japanese farmers on the Island. They are in the process of renovating the house and re-building the garden and use the facility to educate the community about local Japanese American history and culture.  On Sat., Sept. 14, 2019 from 11am – 8pm, there will be the 2Dakota du Nord Annual Vashon Japan Festival. All events are free and all ages are welcome. 18017 – 107e Ave. SW on Vashon Island. [email protected]
The Olympic Music Festival at Fort Worden in Port Townsend has their focus this summer on "The Art of the Violin". The season finale includes Ray Chen & Julio Elizalde on Sept. 7 & 8, 2019. For complete information, go to olympicmusicfestival.org.
Future Seattle Opera productions include the following – "Rigoletto – The Cost of Corruption" August  23, 24, 25 & 28, 2019. Yongzhao Yu makes his Seattle Opera debut as the Duke of Mantua. "Charlie Parker's Yardbird – The Man Behind A Legend" with music by Daniel Schnyder and libretto by Bridgette A. Wimberly. Plays Feb. 22, 23, 26, 29 AND March 1, 4, 6 & 7, 2020. Kelly Kuo will make his Seattle Opera debut as conductor for the orchestra for this production.
Pianist/composer Keiko Matsui marks her yearly return to Seattle with a stay at Jazz Alley from Aug. 22 – 25, 2019. 2033 6e Ave. 206-441-9729.
"Sake To Me! – A Taste of Japan" is an event sponsored by Friends of Asian Art. Sample different types  of sake accompanied by small bites. August 25, 2019 from 3 – 4:30pm. Members,  $25.  Non-members, $35. For tickets, go to http://friendsofasianart.org/eventflyer2.html. The event takes place at Sake Nomi located at 76 South Washington in Seattle's pioneer Square.
In the fall, Seattle Symphony begins a new season under new conductor Thomas Dausgaard. Some highlights include the following – Dynamic classical pianist Lang  Lang returns from a previous injury to perform a program of Sibelius, Beethoven and Mozart on Wed., Oct. 9 at 7:30pm. Masaaki Suzuki conducts Seattle Symphony in a concert of the "Mozart Requiem" on Oct. 17, 19 & 20, 2019. The program also includes Takemitsu's "Requiem for String Orchestra". Beatrice Rana is the concert pianist on a performance of "Schumann Piano Concerto"  on Oct. 24 & 26, 2019. Byron Schenkman & Friends presents international competition winner and Seattle native Rachell Ellen Wong in concert with Byron Schenkman in a program of "Brahms, Dvorak and Still" on Oct. 27. 2019. Lawrence Loh conducts Seattle Symphony in a program entitled "The Movie Music of John Williams" on Nov. 8, 9 & 10, 2019 as part of the "Pops Series".  Moving on to 2020, the annual "Celebrate Asia" concert has Tianyi Lu conducting and Gaurav Mazumdav on sitar and Conrad Tao on piano in a program of compositions by Huang Ruo, Reen Esmail, Conrao Tao and Gershwin. Eun Sun Kim conducts the orchestra with Elisa Barston on violin in Tchaikovsky's "Symphony No. 8" on March 12 & 14 with a special "Tchaikovsy Untuxed" concert on March 13. Pianist Aimi Kobayashi participates in "Bach Fest 1" on May 21 with conductor Ryan Bancroft and fellow pianist Alexandra Dovgan. All concerts at Benaroya  Hall in downtown Seattle. 200 University St. Go to seattlesymphony.org for details or call 206-215-4747.
Book-It Repertory Theatre reprise their adaptation of "Howl's Moving Castle" by Diana Wynne Jones for their upcoming new season. Some people may remember this as a popular animated feature film by Studio Ghibli's Hayao Miyazaki. This version was adapted and directed by Myra Platt and features music and lyrics by Seattle's Justin Huertas. On stage November  29 – December 29, 2019.  305 Harrison  St. at Seattle Center. 206-216-0833 or try [email protected]
ArtsWest has also announced their new 2019/2020 season entitled "Agents of Change" which looks at revolutions and the people who participate in them. The prolific and talented playwright/director/actress Sara Porkalob returns with a new play and a world premiere for the new season. "Alex and Alix" looks at the unseen forces that shape the way we remember love and a moving meditation on memory, trauma and healing. Two women in love  and one name. Set for April 30 – May 24, 2020. Learn more details about the entire new season at artswest.org. ArtsWest is located in West Seattle at 4711 California Ave. SW.
Village Theatre kicks off their 40e anniversary with "The 25e Annual Putnam County Spelling Bee", a Tony Award-winning comedy. The cast includes Justin Huertas and Arika Matoba. Presented at the Francis J. Gaudette Theatre in Issaquah Sept. 12 – Oct. 20 before moving to the Everett Performing Arts Center October 25 – Nov. 17, 2019. The Gaudette Theatre is at 303 Front St. N. in Issaquah. The Everett Performing Arts Center is at 2710 Wetmore Ave. in Everett.  425-392-2202 for Issaquah. 425-257-8600 for Everett. Try VillageTheatre.org for more details.
Seattle-based Japanese singer/songwriter Kuniko Matsumura who performs on both sides of the Pacific  in both Tokyo and the West Coast has a concert set for Sat., Sept. 7, 2019 at 12:30pm. $20 tickets. At the Chapel on the fourth floor of the Good Shepherd Center located at 4649 Sunnyside Ave. N. For tickets go to https://www.brownpapertickets.com/event/4109410. For more information, go to https://kunikoafternoon.godaddysites.com.
Seattle Contemporary Dance Company, Whim W'him's new season will include "Choreographic Shindig V", this 5e annual series kicks off the company's new Season X. It includes the choreography of New York-based choreographer Yoshito Sakuraba as well as the work of Kyra Jean Green and Joshua Manculich.  Sept. 13 – 15 & 18 – 21 at 8pm.  Erickson Theatre Off Broadway. 707-350-9446 or go to whimwhim.org/season.
Café Nordo has already announced their upcoming 11e season entitled "Where The Tea Party Never Ends" and early memberships are available. Come watch as they spin their interesting mix of original theatre, music and cuisine tailored to fit the theme of each production. The ever prolific Sara Porkalob is back with "The Angel in the House" from Feb. 8 – March 15, 20210. She wrote and directed this piece that's a Victorian thriller with corsets, blood, revenge and cake. "Night Parade: The Ghost Forest" takes place   June 13 – July 21, 2020. Conceived of and Directed by Tom Dang and written by Kendall Uyeji. Take a dive into Japan's Aokigahara Forest near Mr. Fuji, famous for suicides. When a Western blogger mockingly posts a photo of a suicide on social media, he is spirited away by ghosts and demons of that forest. Café Nordo is at 109 South Main. Go to www.cafenordo.com to find out more about their new season and how you can get tickets.
The Skeleton Flower Band emerged from Degenerate Art Ensemble's theatrical production of the same name which premiered earlier this year. Now they present music from that production and new songs as well in a concert on Sept. 21, 2019. This art-rock sextet includes Haruko Crow Nishimura, Joshua Kohl, Kevin Nortness, Adam Koe and Scott Teske with visuals by Leo Mayberry. Opening acts include Fruit Juice, Tomo Nakayama and the Tiger Tails. Stand-up comic Biswa Kalyan Rath brings his "Live" tour here on Sunday, Sept. 22, 2019 at 8pm. Singer/songwriter Sid Sriram grew up with Indian classical roots but listened to Donny Hathaway and would also lend his talents to Indian cinema soundtracks. You've got to wonder what synthesis he would come up with in his own music.  You can find out when he performs on his "Crossover Tour" set for Friday, Oct. 17, 2019 at 8pm. The Neptune is in the University District at 1303 NE 45e. 206-682-1414.
The Asia Pacific Cultural Center in Tacoma sponsors numerous events to highlight the diversity of Asian Pacific American culture.  On Sept. 21 from 11am – 5pm, the "Chu Seck Korean Festival" takes place with Korean performing art, cultural activities and food booths.   The Center also has  "Taste of Asia: A Cooking Series" in which participants are encouraged to learn, cook and taste. All classes are monthly from 11am – noon. The schedule is as follows – Sept. 7 is Burma, Oct. 6 is Japan, Nov. 2Dakota du Nord is the Marshall Islands and Dec. 7 is Samoa. APCC is at 4851 South Tacoma Way in Tacoma. 253-383-3900 or go to apcc96.org
Mxmtoon is an 18 year-old Chinese American singer/songwriter from Oakland, California. An internet phenomenon, she records all her music in her bedroom with just a ukulele and her voice. Her bare, honest lyrics about teenage coming-of-age struggles speak to her peer group. "Mxm: The Masquerade Tour" comes to the Crocodile on Sat., Sept. 21 at 5:30pm. 2200 2Dakota du Nord Ave. She will sing songs from her new recording. Not surprisingly, that concert is already sold out.
The Meany Center For The Performing Arts has announced their 2019/2020 season. Some performers include the following – David Finckel & Wu Han perform with Philip Setzer in a program of Beethoven, Shostakovich and Mendelssohn on Mon., May 18, 2020 at 7:30pm. Concert pianist George Li plays a recital of Haydn, Schubert, Ravel and Schumann on Wed., April 19, 2020 at 7:30pm. The contemporary butoh dance troupe Sankai Juku return to Seattle Oct. 17 – 19, 2019 at 8pm with choreographer Ushio Amagatsu's new piece "Meguri: Teeming Sea, Tranquil Land." It is a poetic meditation on the passage of time as symbolized by the circulation of water and the seasonal transformation of the earth. Violin virtuoso Midori performs with   pianist Jean-Yves Thibaudet on Thurs., Jan. 23, 2020 at 7:30pm in an all-Beethoven program in honor of the composer's 250e anniversary. Meany Center is located on the Seattle campus of the University of Washington.  206-543-4880 or go to meanycenter.org.
The Louise Greger International Women in Music Festival present local soprano Fumi Tagata with Ayase Saxman in concert on Oct. 5, 2019 at Whidbey Island Center for the Arts in Langley, WA. Tickets can be purchased at www.wicaonline.com. Proceeds from ticket sales benefit Tiny Houses in the Name of Christ, a nonprofit committed to building affordable housing in Langley for workers.
MACHA Theatre Works has a new season entitled "Look Back, Move Forward". It will feature works by local female playwrights. Maggie Lee's "The Flight Before Xmas" blends traditional expectations of the season with the challenges of modern families in a heart-warming comedy. Directed by Amy Poisson. Good for ages 7 and up. Dec. 6 – 22, 2019  at West of Lenin in Fremont. 608-909-1252 or go to www.machatheatreworks.com.
Earshot Jazz Festival's annual fall event takes place all around the Puget Sound Oct. 4 – Nov. 6, 2019. South Korean singer Youn Sun Nah is confirmed for this event. Tickets go on sale in mid-August. Go to earshot.org for details.
Seattle Art Museum presents their 12e Annual Diwali Ball on Saturday, October 12 at 7:30pm at SAM with Indian food & drinks, dance, Bollywood and Bhangra beats, henna, tours of SAM's collection and surprises. For tickets, call 206-654-3210.
Korean American performing artist Jay Park embarks on his first solo world tour "SEXY4EVA" and he touches down in Seattle on Sun., Dec. 1, 2019 at 8pm at Showbox Sodo. Expect hip-hop flows, melodic RnB vocals and spinning dance routines. 1700 First Ave. S.  206-652-0444 or go to http://ww.showboxonline.com.
Kalakendra Performing Arts present a Kuchipudi Dance Drama entitled "ARDHANAREESWARAM" on Sept. 29, 2019 at 6:30pm. Newmark Theatre at 111 SW Broadway Ave. in Portland. 1-800-273-1530.
The Changmu Dance Company from South Korea has transformed Korean dance through innovative choreography with poetry and its mastery of traditional forms. They make their Portland debut on Wed., April 15, 2020 at 7:30pm. Arlene Schnitzer Hall. 503-245-1600 for tickets.
As part of TaiwanFest, Ju Percussion Group from Taiwan make a Vancouver appearance. The group has been performing around the world for thirty years. They share the emotions of rhythm that veer from drums to kalimba and gongs. August 31, 2019 at 6:30pm. The Westward Music Festival presents Joji  with Phum Viphurit on Sept. 13, 2019 at 7:30pm. This Japanese singer, songwriter, rapper, record producer and former internet personality performs on stage. Queen Elizabeth Theatre in Vancouver, BC. 630 Hamilton St. 604-665-2193.
The classical duo of Nikki & Timmy Chooi on violins perform in concert with Angela Cheng on piano on Sept. 22, 2019. The Z.E.N. Trio as presented by the Vancouver Recital Society perform on piano, cello and violin on Oct. 20, 2019 at 3pm. George and Andrew Li perform solo and together on piano on Jan. 12, at 3pm. Vancouver Playhouse.600 Hamilton St. 604-665-3038.
The Vancouver Symphony Orchestra present an evening concert of compositions by Chinese composer Tan Dun entitled "Tan Dun – Crouching Tiger And Beyond" on Nov. 9, 2019 at 8pm. Also set for April 3 & 4, 2020 is a concert of "The Music of Joe Hisaishi", noted composer of movie soundtracks for Studio Ghibli films performed also by the Vancouver Symphony Orchestra. The Orpheum Theatre in Vancouver, BC. 601 Smithe St. 604-665-3035.
UZUME Taiko Drum Group Society presents "Taiko M.A.D. Concert And Album Release" which is a concert of new work for taiko drums with Max Murphy on wind instruments and electronic music. This is a celebration of the group's seventh album release. One of Canada's  premier taiko groups. Performance set for Sept. 21, 2019. Pandemic Theatre/Rumble Theatre, Diwali in B.C. and New World Theatre present "Take dMilk, Nah?", a performance piece written and performed by Jivesh Parasram. This work blends storytelling and ritual to walk the audience through the complexities of his mixed culture experience. Oct. 16 & 17, 2019. Vancouver Asian Canadian Theatre presents "Kuroko" set for Nov. 6 – 17. 2019. This world premiere from acclaimed playwright/performance artist Tetsuro Shigematsu tells the story of a hikikomori (Japanese for extreme recluse) who is challenged to come out by an online challenge, then what happens? All events at the Cultch. 1895 Venables St. in Vancouver, BC. 604-251-1363 or try either [email protected] ou [email protected]
Santa Fe Opera presents a new adaptation of David Henry Hwang's "M. Butterfly" as an opera in this world premiere. Music by Huang Ruo and libretto by the playwright.  Last performance on August 26, 2019. Stars Kang Min Justin Kim, David Bizic and Hera Hyesang Park. Musical conductor is Xian Zhang. 301 Opera Drive in Santa Fe, New Mexico. 1-800-280-4654.
Japanese set designer Shizuka Hariu, recipient of the 2017 Bronze Medal of World Stage Design has a challenge. She will take on George Benjamin's contemporary opera "Written on Skin" and present it in semi-staged form in Tokyo's Suntory Concert Hall. Hariu must contend with a character who travels through time from ancient to modern. She will use both physical scenography and digital film for her design which will convert the concert hall into a stage. Kazushi Ono is the conductor. It opens the end of August, 2019.
The Welsh National Opera has created a new "Female Conductor in Residence" position to address the gender balance across the industry. The first recipient of this residency is Tianyi Lu.
Film & Media
The SIFF Uptown screens a Japanese film entitled "One Cut of the Dead" starting Sept. 17, 2019. This zombie farce by Shinichirou Ueda tells the story of a small crew shooting a zombie film who suddenly find themselves under attack from actual undead creatures.  511 Queen Anne Ave. N. Go to siff.net for details.
The SIFF Film Center has the following – Film scholar John Trafton leads film buffs through the seasons of Akira Kurosawa's filmography for 5 successive Thursdays from Sept. 12 – Oct. 10, 2019. In addition he will introduce two screenings of his prize-winning film, "Rashomon" open to the general public on Sept. 6, 2019. Near the corner of  Warren and Republican on the Seattle Center campus.  Go to siff.net for details.
Seattle Asian American Film Festival presents the "CID Summer Cinema" series. A free screening of films in Hing Hay Park on Saturdays at 7:30pm. The series closes with the stage musical of a Japanese American family with George Takei entitled "Allegiance" on August 25. 206-684-4075 or go to http://www.seattle.gov/parks.
Shuji Awai's animated prequel to his previous live action film, "Hana and Alice" is entitled "The Case of Hana And Alice". This manga adaptation tells the story of a transfer student who learns of a murder and decides to investigate with the help of her next-door neighbor/classmate. Screens  August 31, Sept. 1 & 8, 2019 at  Grand Illusion Cinema. 1403 NE 50e St. in the University District. 206-523-3935.
Gkids and Fanthom Events present Japanese animated feature "Promare" from Studio TRIGGER, a blistering action-adventure on Sept. 17 & 19, 2019. Directed by Hiroyuki Imaishi. When a race of flame-wielding mutants who burned up half the world with fire return generations later, it's up to a rescue team to wage an epic battle with these aggressors to save the planet. Screens Sept. 17 at 7pm in an English dubbed version and again on Sept. 19 at 7pm in Japanese with English subtitles. At several Puget sound locations. To get advance tickets and locations, go to www.fanthomevents.com/events/promare OR www.PromareMovie.com or get tickets at the door
Fanthom Events continues their screening of Studio Ghibli classic films in 2019 with the following  to hit local movie theatres (some with new prints). Screenings are usually in both Japanese with English subtitles and  dubbed in English.   "My Neighbor Totoro" on August 25, 26 & 28.  "The Secret of Arrietty" on Sept. 29 & 30. "Spirited Away" on Oct. 27, 28 & 30. "Princess Mononoke" on Nov. 17, 18 & 20.  "The Tale of the Princess Kageya" Dec. 16 & 18. Tickets online at www.FanthomEvents.com or at the box office.
Some of the films that appeared at the recent SIFF festival will get general distribution across the country. Here are the dates for those films and other new movies. On August 9, 2019, the documentary film "One Child Nation" which looks at the disastrous results of the government decision to limit families to one child is released. Directed by Nafu Wang and Jialing Zhang. August 14, 2019 brings the new Gurinder Chadha film "Blinded by the Light" about a South Asian teenager growing up in Thatcher's Britain whose mind is opened up when he hears Bruce Springsteen's music. On August 23, Justin Chon's new film "Ms. Purple" opens. It is about a Korean American woman who must make amends with her estranged brother in order to properly care for a dying father in LA's Korea Town.
The Smithsonian Asian Pacific American Center in partnership with AARP and with help from Kundiman produced a film project entitled "A Day in the Queer Life of Asian Pacific America". Go to http:smithsonianapa.org/day/-queer-life/ for details. Also as part of this project, poet Franny Choi curated a program entitled "Queer Check-ins" in which she asks 12 queer Asian and Pacific Islander diasporic poets how they are doing. Each poet reads a poem and talks about their life. Go to https://smithsonianpa.org/queer-check-ins/ for details.
Yayoi Winfrey's documentary film "War Bridges of Japan" received the "Best Film Poster Award" at the 2019 Indo-Global International Film Festival.
The Chinese actress Liu Yifei (a naturalized US citizen) posted a viral pro-police comment on Weibo regarding the recent pro-democracy protests in Hong Kong. Response on Weibo from others was in support of her comments but now on twitter (not available in China), a movement to boycott the upcoming Disney film "Mulan" in which Liu Yifei plays the lead role is starting up. The film is a live-action remake of the hit 1998 Disney animated feature. As protests continue, international Chinese celebrities are lining up on both sides with their vocal support. Actor/director Jackie Chan recently took part in a pro-police rally. Still others felt Chinese celebrities are voicing support for China to protect themselves and their families and relatives still living there. Others feel that Disney will overlook the Hong Kong issue because they stand to reap big profits when the film screens in China which represents the world's second largest economy.
The Written & Spoken Arts
The University Book Store has the following events –The series "Thursdays with KUOW" features news journalists from the local NPR station addressing various issues. On Sept. 5, 2019 at 6:30pm, reporter Ruby de Luna addresses the topic of "Our Foods, Our Stories". She looks at people who are inspired by food and use it to follow their dreams. Noted actor/author George Takei is tentatively scheduled to be at the store for a book signing event only on Thursday, Sept. 5, 2019 at around 5pm. He will be signing copies of his recent graphic memoir about his internment camp experience entitled "The Called Us Enemy" (Top Shelf). On Sun., Sept. 8, 2019, noted young adult author May H. K. Choi will be at the book store on behalf of her latest novel, "Permanent Record" (Simon & Schuster). What happens when a Korean American NYU dropout and a social media sensation accidentally meet in a bodega and sparks fly? Choi's previous novel "Emergency Contact" was a New York Times bestseller. 4326 University Way NE. 206-634-3400.
Elliott Bay Book Company continues to sponsor readings in their Capitol Hill bookstore as well as co-producing events all over the city. Below you will find a partial listing of some of their events. Events are at the bookstore unless otherwise noted. One-time US Secretary of Labor Robert B. Reich talks about his most recent book "The Common Good" (Vintage) in conversation with Representative Pramila Jayapal on Monday, Sept. 2, 2019 at 7:30pm at Seattle Town Hall. 1119 Eighth Ave. Go to www.townhallseattle.org for details. Ganesh Sitarman, Vanderbilt law professor and advisor to Senator Elizabeth Warren will talk about "The Public Opinion: How to Expand Freedom, Increase Opportunity and Promote Equality" (Harvard), a book co-authored with Anne Alstott. Co-presented by Town Hall Civics. On Friday, Sept. 6 at 7:30pm at Town Hall Seattle. Chandrahas Choudhury reads from "Clouds" (Simon & Schuster) at the book store, a novel about tribal land rights, the destruction of culture and the complexities of old age and grief. Co-presented by Tasveer. On Monday, Sept. 9 at 7pm. Also at the book store, in a reading billed as "Unidentifiable Asians" set for Mon., Sept. 16, 2019 at 7pm will be a reading by authors Farooq Ahmed and Leland Cheuk. Ahmed reads from his novel "Kansastan" inspired by the civil war in which a dystopic Kansas is besieged by its neighboring state. Infused with Islamic folklore, Quranic lyricism, Old Testament tales yet as American as Cormac McCarthy and viciously funny. Cheuk reads from "No Good Very Bad Asian" in which a famous Chinese American comedian from L.A. struggles with substance abuse and racism despite his fame. Amitav Ghosh reads from his new novel "Gun Island (FS&G) on Thurs., Sept. 19 at 7:30pm at Town Hall Seattle which is the co-sponsor of this event with EB. The novel traces Bengali folklore, modern human trafficking and the devastating effects of climate change across generations and countries. 206-624-6600 or go to www.elliottbaybook.com.
Renovations are complete  and the public is welcome back to the old building. Town Hall Seattle presents the following events as part of their "Homecoming Festival." Leta Hong Fincher talks about her book "Betraying Big Brother – The Feminist Awakening in China" on Sunday, Sept. 22, 2019 at 7:30pm. In The  Forum. 1119 – 8e Ave. (West entrance.) Go to Townhallseattle.org for details.
Seattle Arts & Lectures has released their new program details for their 2019/20 season. Among the many highlights included are these – In the "Literary Arts" series, Min Jin Lee will speak. Her last novel "Pachinko" looked at four generations of an immigrant Korean family living in Japan running a pachinko parlor and gave Americans an intimate peek at a mostly hidden Japanese-Korean culture. It was a finalist for the 2017 National Book Award in Fiction. Set for March 17, 2020. In the "Journalism Series", the award-winning husband/wife reporting team of Nicholas Kristof & Cheryl WuDunn who shared a Pulitzer Prize will talk about their new book "Tightrope" which looks at the crisis in working-class America, the lives of real Americans today. They appear on Feb. 5, 2020. In the "Poetry Series", Seattle-raised poet/prose writer Paisley Rekdal (now Utah State Poet Laureate) does a Q & A with Rebecca Hoogs about her contemporary re-write of Ovid's "Metamorphoses"  in her Copper Canyon Press title, "Nightingale". Feb. 6, 2020. Rick Barot, award-winning Tacoma poet engages in conversation with fellow poet Jane Wong about the long colonial structure that sustained Spanish control over, much of Latin and South America, the Caribbean and the Philippines as outlined in his recent book of poetry entitled "Chord". Set for March 19, 2020. Also look for appearances throughout the year at SAL events from 2019/20 Youth Poet Laureate, Wei-Wei Lee. Lee will have her first book published by Poetry NW Editions in the spring of 2020. For more detailed information on SAL and its new season, go to lectures.org.
Hugo House, that venerated Northwest center for writers and poets re-opens in brand-new digs with expanded space but in the same location. Catch their readings and celebrate their new space. Also with the opening of the new Hugo House, the writing center rolls out a new series of classes/workshops with a varied number of subjects taught by a talented group of writers like Nisi Shawl, Sonora Jha, R. O. Kwon, Anne Liu Kellor, Michelle Penaloza, Richard Chiem, Diana Xin, Anglela Garbes, Lora Shinn, Aimee Bhausar and Shankar Narayan. One of the events for the 2019-2020 Hugo Literary series is "Taking Liberties" set for Nov. 22, 2019 at 7:30pm which features former US Poet Laureate Juan Felipe Herrera, best-selling novelist Hannah Tinti and Seattle fiction writer Richard Chiem, author of the novel, "King of Joy." Also new music from blues-based singer-songwriter Amber Flame.  Hugo House has selected writers for the 2019-20 Hugo Fellowships. Joyce Chen and Jen Soriano were some of the writers selected. The writers will be given advice and have a space to write. They will give two readings as well. Chen is a writer/editor/creator from Los Angeles. She will be working on a collection of essays that examine the push/pull conflict between American ideals of independence and self-fulfillment and Taiwanese values of family community and sacrifice. Jen Soriano is a Filipinx-American writer who blurs the lines between non-fiction, surrealism and poetry. She is working on a memoir of colonization, historical trauma and the neuroscience of healing as well as an essay collection on gender, technology and mothering.  1634 – 11e Ave. 206-453-1937. Go to hugohouse.org to find out more.
Poets Michael Schmeltzer, Dianne Aprile  and Josh Alexander read in the RASP Reading Series hosted by Michael Dylan Welch on Friday, August 30, 2019 at 7pm at Los Pajaros Studio Gallery at 7945 Gilman St. in Redmond, WA.
Seattle journalist/editor/curator Mayumi Tsutakawa gives a free public talk entitled "Washington's Undiscovered Feminists" which highlights our state's women warriors who changed the Northwest and American society. She will talk about Imogene Cunningham, Ruby Bishop, Priscilla Chong Jue, Anna Louise Strong and Vi Hilbert. Part of the Speakers Bureau Program of Humanities Washington. Sept. 7, 2019 at 1pm. Please go to monamuseum.org to RSVP. At the Museum  of Northwest Art in La Connor, WA. At 121 South 1st St.
The first Seattle Childrens Book Festival takes place on Sept. 28, 2019 from 11am – 3pm. Kazu Kibushi, Leuyen Pham and Joyce Wan are just a few of the many children's authors and book illustrators appearing. Hands-on literary activities, crafts and  author presentations. Young readers will have a chance to meet award-winning authors and artists from around the country, purchase books and have them signed. Greenwood Elementary School. 144 NW 80e St. Free. [email protected]
2019 Washington State Book Award finalists include "The Lost Girls of Camp Forevermore" by Kim Fu in the "Fiction" category and "Like A Mother" by Angela Garbes in the "Non-Fiction" category.
Winners of The Before Columbus Foundation's Fortieth Annual American Book Awards included the following – "John Okada: The Life & Rediscovered Work of the Author of No-No-Boy" (UW Press) Edited by Frank Abe, Greg Robinson and Floyd Cheung and "Useful Phrases for Immigrants: Stories" (Blair) by May-lee Chai. Winners will be formally recognized on Friday, November 1, 2019 at Koret Auditorium at the San Francisco Public Library.  Go to www.beforecolumbusfoundation.com for details.
Connie Kang, a pioneer Korean American journalist recently passed away at the age of 76. She is considered to be the first Korean American woman reporter in the United States when she joined the LA Times. During the LA riots in 1992, few local reporters were able to interview the Koreans in those neighborhoods who were being besieged because of the language barrier. On the heels of those riots, the Korean American Journalists Association implored the LA Times to hire a Korean-speaking reporter who could cover the community in a fair-minded way. Kang was hired at that time. She was immediately flooded with calls from Korean Americans because no one in the mainstream media could speak their language. She was known to be more thorough in her reporting than some other writers and she was cautious about every word she used. She also wrote a column for the Koreatown Weekly.
Below is a partial list of new books by or about Asian Americans and new titles on Asia. If you are interested in reviewing any of them, please let us know –
"The Ranger" (Groundwood) by Nancy Vo. When a ranger comes across a fox in a trap, she nurses it back to health. When misfortune befalls the ranger, the fox returns the favor. A picture book of understanding and companionship is evoked in striking illustrations.
"Place and Postcolonial Ecofeminism – Pakistani Women's Literary And Cinematic Visions" (Nebraska) by Shazia Rahman. A look at contemporary Pakistani literature and film through the voices of women's narratives.
"Skyward: The Story of Female Pilots in WWII" (Flying Eye) by Sally Weng. This children's picture book tells the little known story of women pilots who learn to fly and contribute to the war effort.
"Maangchi's Big Book of Korean Cooking" (HMH) by Maangchi is billed as "You Tube's Korean Julia Child" by the NY Times. This book is called the definitive book on Korean food and the culture it comes from. Set for Oct. 2019 release.
"How Do You Say Goodnight?" (Little Simon) by Cindy Jin and illustrated by Shirley Ng-Benitez is a cute board book for kids in which the little ones learn how to say good night in an array of languages and cultures.
"Masking Identity – The Performance Art of Roger Shimomura" (printed by CreateSpace, an Amazon Company) by Krystal Reiko Hauseur. This book is a monograph of the artist's thirteen performance pieces created over an eighteen-year period. Looks at the historical significance and visual impact of Shimomura's performance art that continually dealt with racism, discrimination, and the Asian American experience.
"Everest" (Flying Eye) by Sangma Francis & Lisk Feng. A non-fiction picture book full of facts about the world's highest mountain with marvelous visuals by Feng.
"Rising Son – A US Soldier's Secret and Heroic Role in World War II" (Sasquatch) by Sandra Vea. The story of a Japanese American man who joined the Military Intelligence Service assigned to convince Japanese Imperial soldiers to lay down their arms while wearing a target on his back. Reveals a little-known history of how the confluence of race, war and loyalty played out when the nation called for the service of those it judged most harshly.
"Things To Make And Break" (Coffee House) is a book of stories by May-Lan Tran. A collection of stories that reveal old relationships, past selves and hopes for the future where the path is not always clear and self-invention and self-annihilation appear as road signs to a varied cast of characters.
"The Immortal Jellyfish" (Flying Eye) by writer/artist Sang Miao tackles the issue of death as a young boy loses his grandfather only to reunite again with him in a mythical city.
"Bullets And Opium – Real-Life Stories of China After the Tiananmen Square Massacre" (Signal) by Liao Yiwa. Now living in exile in Berlin, the author bears witness with first person accounts from ordinary people who were actually there that fateful day.
"Stories For South Asian Super Girls" (Kashi House) by Raj Kaur Khaira is a treasure trove of 50 illustrated biographies of amazing South Asian women. A young adult book of "sheroes" sure to inspire.
"ESL or You Weren't Here" (Nightboat) by Aldrin Valdez. A debut book of poems that looks at a young man's upbringing as a queer immigrant body adrift in a sea of contradictions with negotiations between Tagalog and English at every corner.
"Bone Talk" (David Fickling Books) by Candy Gourlay tells the story of an indigenous village boy in the Philippines who must use all his skills to  battle the encroachment of American invaders in this young adult novel set for November 2019 publication.
"Always Angali" (Bharat Babies) by Sheetal Sheth with illustrations by Jessica Blank. When an Indian girl in America finds she is bullied for her different name, she asks her parents to change it but they refuse. A timeless children's story about appreciating what makes us special and honoring our differences.
"Sightseer in This Killing City" (Penguin) by Eugene Gloria. This new book of poems captures the surreal and disorienting feelings of the present and reveals an obsession with arrivals and departures and the bitter divisions in America.
"Parade" (Soft Skull) by Hiromi Kawakami as translated by Allison Markin Powell. It's a summer afternoon and the student tells her former high school teacher a modern folk-tale of creatures over a bowl of cold noodles. Set for Nov 2019 publication.
"Bodega" (Milkweed Editions) is a debut book of poems by Minnesota poet Su Hwang. With rich lyrical and narrative poetics, she offers a revealing perspective on our nation of immigrants and the tensions rising in the margins where they live and work.
"My Story Starts Here – Voices of Young Offenders" (Groundwood) by Deborah Ellis is set for Oct, 2019 release. It is an oral history of kids involved in the criminal justice system telling their own stories. From different socioeconomic backgrounds, genders, sexual orientations and ethnicities, the common threads that bind include loss of parents, dislocation, poverty, truancy, addiction and discrimination.
The Goose Egg" (Knopf) by Washington author/artist Liz Wong tells the story of another elephant who rescues a baby goose who then adopts her as her mother. This picture book is tale of parenting and how love changes everything.
"Fashion And Beauty in The Time of Asia" (NYU Press) edited by S. Heijin Lee, Christina Moon and Thuy Lin Nguyen Tu. This collection of essays considers the role of bodily aesthetics foraged through engagements with fashion and beauty. Topics run the gamut from the American influence on plastic surgery in Korea, Chinese garment workers to Nepalese nail technicians in New York.
"You Go First" (Greenwillow) by Erin Entrada Kelly. How do two friends more than a thousand miles away survive middle school and heartbreak at home? A love of online scrabble binds them together and their lives intersect in unexpected ways in this young adult novel.
In "Hybrida" (Norton) is Tina Chang's new book of poems and in it, she confronts the complexities of raising a mixed-race child during an era of political upheavel in the United States.
"Spin The Dawn" (Knopf) by Elizabeth Lin. This fairy tale is about a young seamstress who must use her creativity as a weapon against evil forces invading the land.
"Before I Was A Critic I was A Human Being" (Book Hug) by Amy Fung. This collection of essays takes a closer look at Canada's mythologies of multiculturalism, settler colonialism, and identity through the lens of a national art critic.
"Jaya And Rasa: A Love Story" (Cinco Puntos) is both a teenage romance and a tale of crime fiction as a love blooms between two strangers who cross paths. Will their relationship survive the chaos of their respective lives?
"Love in the New Millennium" (Yale) by Can Xue with a foreword by Eileen Myles and translated from the Chinese by Annelise Finegan Wacmoen. A dark comic novel about a group of women who inhabit a world of constant surveillance, where informants lurk in the flower beds and false reports fly. Love stories of a new millennium by a master storyteller.
"Malaya – Essays On Freedom" (Little A) by Cinelle Barnes. These essays tell of a harrowing childhood in the Philippines and coming of age in the American South as a woman with a brown body in a profoundly white world. Set for Oct, 2019 release.
"Super Satya Saves The Day" (Bharat Babies) by Raakhee Mirchandani with pictures by Tim Palin. Can a little girl conquer the tallest slide in Hoboken without her superhero cape? Will she be able to face her fears, help her friends and be the true hero everyone knows she is?
"Empire of Style – Silk And Fashion in Tang China" (UW Press) by  Buyen Chen. During the Tang dynasty, the Silk Road was filled with a critical market and the thriving cultures of Central Asia and the Middle East. Chen looks at this vibrant fashion system that emerged through the efforts of Tang artisans, wearers and critics of clothing.
"The Art of Logic In an Illogical World" (Basic Books) by Eugenia Cheng. This mathematician and columnist demonstrates how to use mathematical logic to complement our emotions and transform the way we think about challenges.
"Team Taek Wondo #3 – How To Be Cheeri" (Rodale Kids) by Master Taekwon Lee & Jeffrey Nodelman and illustrated by Ethen Beavers. What happens when hand worker Cheeri must collaborate with fun loving Baeoh? How can they join forces and learn to work together to meet their next challenge? A lesson-learning graphic novel for kids.
"Bomb Children – Life In The Former Battlefields of Laos" (Duke) by Leah Zani. The author looks at how the explosive remnants of war continues to be a part of people's everyday lives.
"Chicks Rule!" (Abrams) is a picture book by Sudipta Bardhan-Quallen with pictures by Renee Kurilla that demonstrates that when little girls work together, no obstacle is insurmountable.
"Zeng Fanzhi" (Hauser & Wirth) is a catalog of a 2018 exhibition by one of China's most well known contemporary artists that toured Zurich, London and Hong Kong. The artist often works on multiple artworks in different styles and this book is a reflection of that as it moves from the purely abstract to the figurative to traditional landscape.
"Paper Son" (Random House) by Julie Leung and illustrated by Chris Sasaki tells the inspiring story of artist Tyrus Wong, the Chinese American responsible for bringing Disney's Bambi to life.
"Symptoms of a Heart Break" (Imprint) by Sona Charaipotra is a young adult novel of a young doctor treating kids with cancer who must mend her own broken heart even as she starts to become attracted to a patient.
"Hard Damage" (University of Nebraska) by Aria Aber won the Prairie Schooner Book Prize in poetry. Leaping from the personal to the political, an Afghani family history comes alive as a poet explores the historical and personal implication of Afghan American relatives in an urgent, lyrical language.
"Anna May Wong – Performing The Modern" (Temple University Press) by Shirley Jennifer Lim. The author explores modernity and women of color through the central presence of this famed Chinese American actress. In this study, Lim captures Wong's emergence through the contradictions of gender and race.
"The Rise of Kiyosi – Avatar, The Last Airbnder" (Amulet) by F. C. Yee with Avatar co-creator Michael Dante Dimartino. The story behind the longest-living avatar  in the history of this beloved world. It maps Kiyoshi's journey from a girl of humble origins to the merciless pursuer of justice in this young adult fantasy epic.
"At A Moment's Notice – Indonesian Maids Write on Their Lives Abroad (Nias Press) edited by Jafar Suryomenggolo. A new genre of Indonesian women's literature has appeared, one in which the authors reimagine their experiences as domestic workers in foreign lands.
"Caster" (Scholastic) by Elsie Chapman. This Chinese Canadian young adult writer re-imagines the Chinese enclave of Richmond as a dystopian world broken apart by magic. The protagonist risks all to save her home in a tournament of magic.
"The Life of Animals In Japanese Art" (distributed by Yale) is the exhibition catalog for a traveling exhibition currently at the National Gallery of Art in Washington, DC. It will travel to L.A. County Museum of Art in the fall. Edited by Robert T. Singer and Kawai Masatomo. Few countries have devoted as much artistic energy to the depiction of animal life as Japan. The curators draw upon Japan's unique spiritual heritage, rich literary traditions and currents in popular culture. By tossing out such a wide net, one can see how Japanese artists have expressed their admiration for animals in various media from traditional to modern.
"Spirit Hunters" (Harper) by Ellen Oh. The moment she steps into her new house, a girl feels something strange. When her brother starts acting oddly, Harper Raine knows the house is haunted in this young adult ghost story.
"Rising Water – The Story of the Thai Cave Rescue" (Simon & Schuster) by Marc Aronson brings the backstory behind how this astonishing rescue took place. He examines the physical, environmental and psychological factors surrounding the rescue and makes this inspiring story come alive for young adult readers.
"Who is Michael Jang?" (Atelier Editions) is the artist's first major monograph introduced by SFMoMa's Curator Emerita of photography, Sandra S. Phillips. A successful commercial portrait photographer, this book shows the work he did for his own pleasure and it reflects an incredible time capsule of American life in the 70s and 80s California from family life to city streets and punks and poets.
"Gandhi's Search for the Perfect Diet – Eating With the World In Mind" (UW Press) by Nico Slate. Gandhi redefined nutrition as a holistic approach to building a more just world. What he chose to eat was intimately connected to his beliefs. This book sheds new light on important periods in his life as they relate to his developing food ethic.
"Pangs of Love & Other Writings" (UW Press) by David Wong Louie with a foreword by Viet Thanh Nguyen and an afterword by King-Kok Cheung. This debut book of short stories by the late author established him as a bold storyteller of tales built around characters in conflict and disconnected from both American society and their own families. This new edition includes an additional short story and an autobiographic essay in which he reflects on a life without food after cancer took away his ability to swallow.
"Mao's Kisses: A Novel of June 4, 1989" (Red Bat) by Alex Kuo. There have been scores of non-fiction books on the subject but this appears to be one of the first novels about Tianamen Square and the massacre of students and civilians on that fateful day. It tracks the events on both sides through the eyes of Deng Xiaoping's secretary.
"Beyond Line: The Art of Korean Writing (Del Monico/Prestel) by Stephen Little and Virginia Moon is the exhibition catalog for the first show outside Asia to focus on the history of writing and calligraphy in Korea. It explores the role of calligraphy in all forms throughout different strata of society from Chinese characters to Hangeul. It also explores Korea's innovations in woodblock printing and moveable metal type. Coming to Los Angeles County Museum of Art.
"I Have A Little Lantern" (Better Link Press) by Gan Dayong as translated by Yijin Wert. When a little girl walks to school early in the morning, she has her lantern to light the way. But when a monster destroys it, how will she get out of danger?
"Searching For Sylvie Lee" (Morrow) is the latest novel by Jean Kwok. It looks at the complicated identities within a single immigrant family when a woman goes on a long search after her sister disappears.
"The Birdwoman's Palate" (Amazon Crossing) by Laksmi Pamuntjak and translated by Tiffany Tsao. An independent epidemiologist is asked to research cases of bird flu in rural West Java which also allows her to explore the spices and foods of far flung regions.
"Hello" (Creston) written and illustrated by Aiko Ikegami. Some stories don't need words to make their meaning clear. In a children's tale that is literally "out of this world", this book shows how we can all communicate and transcend boundaries to make a good friend.
"Night In The American Village – Women in the Shadow of the U.S. Military Bases in Okinawa" (The New Press) by Akemi Johnson. The author lays bare the tenuous relationship between those who are dependent upon yet face danger in their dealings with the U.S. military presence abroad.
"The Shadow In The Moon – A Tale of the Mid-Autumn Festival" (Charlesbridge) by Christina Matula and illustrated by Pearl Law. The author tells the story of where those beloved mooncakes come from as told by a Chinese grandmother to her grand daughters. Complete with bright, colorful artwork and yes, a mooncake recipe.
"The City of Folding Faces" (Lanternfish Press) by Jayinee Basu. When people go  to a futuristic casino, they play roulette. But this is more than a gamble, a complex surgery can change the very structure of your face and give you a language for expressing the inexpressible. But is it worth the risk?
"A Common Table – 80 Recipes and Stories from My Shared Cultures" (Rodale) by Cynthia Chen McTernan. A delicious mix of cultures that is truly American. Raised in the South, she stirs her Chinese heritage and her huband's Korean-Irish roots in a new mixture of flavors that sing off the tongue. Winner of a James Beard Award.
"Ghosts Of Gold Mountain: The Epic Story of the Chinese Who Built the Transcontinental Railroad" (Houghton Mifflin Harcourt) by award-winning scholar and Stanford University professor Gordon Chang. It is a ground-breaking account that draws on unprecedented research to recover the Chinese railroad workers' stories and celebrate their role in remaking America.
In "Dream of the Water Children – Memory And Mourning in the Black Pacific" (2Leaf Press) by Fredrick D. Kakinami Cloyd, this former Seattle resident makes his publishing debut in a compelling memoir about a son of an African American father and a Japanese mother who spent a lifetime being looked upon with curiosity and suspicion by both sides of his ancestry.
"A Big Mooncake for Little Star" (Little Brown) by Grace Lin. In an imaginative picture book, the author uses the eating of a mooncake to symbolize the many phases of the moon.
"Hide With Me" (Razorbill) by Sorboni Banerjee is a young adult novel that crafts a story about the unbreakable bonds of friendship, the power of first love and the courage to fight for a brighter future. What happens when a Texas farmer finds a girl broken and bleeding?
"Inhabitation" (Counterpoint) is a novel by Teru Miyamoto as translated by Roger K. Thomas. This is the story of a living lizard nailed to a pillar and a young man bound by a family's misfortune. Their relationship poses questions about life, death and karma.
"Frankly in Love" (Putnam) by David Yoon is a young adult novel about a second generation Korean American boy who falls in love for the first time only to realize he doesn't meet his traditional parents' expectations and wonders what he can do about it. A best friend lends a hand.
"The Ten Lives of Nishino" (Europa Editions) by Hiromi Kawakami as translated by Allison Markin Powell. Ten women tell their stories about distinct and common desires and the seductive charm of an unfathomable man who drifted so naturally into their lives.
For over forty years Bamboo Ridge has showcased Hawai'i's literary and artistic talents in both issues of their magazine and in books of poetry and prose by local authors. The latest issue of Bamboo Ridge – Journal of Hawai'i Literature And Arts" is celebrating their 40e anniversary. Guest-edited by Gail N. Harada and Lisa Linn Kanae, this chunky edition features work by over 50 island writers and a profile of artist Noe Tanigawa.
"A Place To Belong" (Antheneum) by Cynthia Kadohata tells another story that originates out of the forced imprisonment of Japanese (many of them American citizens) on the West Coast during WWII. A disillusioned family gives up their citizenship after the war to move to a city in Japan for a fresh start, unaware of the devastation caused by the atomic bomb.
"Un//Martyred=(Self-) Vanishing Presences in Vietnamese Poetry" (Roof) by Nha Thuyen is a collection of essays by this Hanoi-based poet and critic that offers a cartography of the writing communities that have lived (and died) along the margins of Vietnam's literary landscape since the late 1980's." (Scholastic) by Sarah Kuhn.
When a young girl gets into an explosive fight with her mother, she's able to escape to Kyoto when her grandparents invite her to visit. When she meets a Japanese med student, she learns more than she bargained for – about her self and her complex relationships.
"Your House Will Pay" (Ecco) by Steph Cha is a novel that looks at a history of Los Angeles after Rodney King and how it impacted and shaped her city. She deals with issues of how crime, violence and injustice permeates communities and families.
Mommy Sayang" (Pixar Animation Studios Artist Showcase Books) by Rosanna Sullivan. When illness comes between a mother and her child, they must find a way to love in a different yet meaningful way. Charmingly illustrated by the author.
"Shojin Ryori – The Art of Japanese Vegeterian Cuisine" (Marshall Cavendish) by Danny Chu. Explores a cuisine that originated from Japanese Zen temples that uses no meat, fish, egg or dairy products. The author is a former foreign currency trader who let the corporate world to study this unique cuisine.
Chirri & Chirra – Underground" (Enchated Lion) by Kaya Doi and translated by David Boyd. A charming Japanese picture book about two sisters who embark on an adventure beneath the earth's surface as they follow badgers and discover another world.
"Instantly Indian Cookbook – Modern Classic Recipes For The Instant Pot" (Knopf) is the latest by the godmother of Indian cookbook writers, Madhur Jaffrey. In it, she tries to make cooking Indian food in your home easier via the use of the Instant Pot. Runs the gamut with recipes, side dishes, spices, special ingredients and handy tips.
"A Scarf For Keiko" (Kar-Ben) by Ann Malaspina and illustrated by Merribe Liddiard. A special friendship is tested when Sam's Japanese American neighbor Keiko is forced into an internment camp with her family as WWII draws near. How they will remain friends?
"Like A Love Story" (Balzer + Bray) by Abdi Nazemian. Three characters in 1980's NYC – an Iranian boy who keeps the secret that he's gay, a young girl who wants to be a fashion designer and a gay uncle with AIDS that she worships. When all three get caught up in secrets and emotions, will friendship and love still triumph?
"A Song For China – How My father Wrote Yellow river Cantata" (Ground wood) by Ange Zhang. A true story of a  young Chinese author who composed the words to a song that became a patriotic anthem. Illustrated by the author's woodblock-style art with sidebars that explain the historic background to the story. Set for September, 2019.
"The Safety of Edges" (Marrowstone Press) by Thomas Hitoshi Pruiksma uses poetry to ponder liminal times and spaces, tracing between now and then and there, childhood and the grown poet.
"You Are My Magical Unicorn" (Cartwheel) is a colorful board book by Joyce Wan that expresses the mantra that every child needs to feel important and loved.
"Bloody Seoul" (Cinco Punto) by Sonia Patel is a young adult coming-of-age story about a boy who wants to inherit leadership of his father's gang but along the way, discovers important new truths that help him find himself and another way.
"My Big Band Monster" (Disney Hyperion) by A.N. Kang. How a little girl defeats her monster  of self-doubt comes alive in these colorful pages.
"Kitchen Curse" (Verso) is a book of stories by Eka Kurniawan as translated by Annie Tucker. These dark tales explore the turbulent dreams of an ex-prostitute, a perpetual student, victims of anti-Communist genocide, an elephant and a stone. An Indonesian writer hailed as a SE Asian "Marquez."
"The Boy Who Grew A Forest – The True Story of Jadav Payeng" (Sleeping Bear) by Sophia Gholz and illustrated by Kayla Harren. This picture book tells the inspiring story of a little Indian boy who planted a forest on an island starting with one seed.
Big Sister, Little Sister, Red Sister – Three Women at the Heart of Twentieth-Century China" (Knopf) by Jung Chang, noted author of "Wild Swans". This book tells the story of three real-life sisters from Shanghai who married some of the most powerful men in modern China. A gripping tale of these women who helped shape the history of twentieth-century China.
"The Epic Crush of Genie Lo" (Amulet) by F. C. Yee. What happens when an overachieving Chinese American high school girl drops her studies to fight a hellspawn straight out of Chinese folklore with the aid of the mysterious new boy in school?
"The Memory Police" (Pantheon) by Yoko Ogawa as translated by Stephen Snyder. Due out August 2019, this is a haunting Orwellian novel about the terrors of state surveillance by the acclaimed Japanese author of "The Housekeeper and the Professor".
With "The Candle And The Flame" (Scholastic) by Nafiza Azad, we enter another world and another time. Based on Islamic mythology and Arabic folklore, the author evokes a city on the Silk Road and a young woman who must be quick on her feet and alert to her senses as she navigates political intrigue and the dangers of a magical battlefield to survive. A young adult fantasy novel. The author born in Fuji is an Indo-Fijian Muslim Canadian.
"Man Tiger" (Verso) by Eka Kurniawan is set in a small town on the Indonesian coast. This novel tells the story of two tormented  and interlinked families and an ordinary young man who conceals within himself a supernatural female white tiger. Translated by Labodalih Sembiring.
"Ojiichan's Gift" (Kids Can Press) by Chieri Uegaki and illustrated by Genevieve Simms. A picture book about a grandfather's garden in Japan and how an American granddaughter learns to tend the garden on her summer visits until everything changes. A story of facing change and  the bond of love.
"The Dragon Warrior" (Bloomsbury) by Katie Zhao. This middle-grade fantasy takes a page from Chinese mythology. A young outcast embarks on a quest to prove herself and honor her family as well. Set for October, 2019 release.
"Bilal Cooks Dahl" (Salaam) by Aisha Saeed and illustrated by Anoosha Syed. When a South Asian boy helps his dad cook his favorite dish, he worries if his friends will like it too.
"The Sea of Japan" (Spark Press) is a novel by award-winning Japanese author Keita Nagano. Fleeing a disastrous teaching job in Boston, an American girl gets another position teaching overseas in a Japanese fishing village. Saved from drowning by a local fisherman, she soon becomes immersed in a war over fishing rights between his village and the one nearby. Set for September 2019 release.
"Other Words For Home" (B+B) by Jasmine Warga. A Syrian girl and her mother are forced to flee their war-torn country leaving an older brother and father behind. Will they find a new home in Cincinnati? A young adult novel about losing and finding home or perhaps finding yourself.
"The Secrets of Noh Masks" (Kodansha) by Michshige Udaka with  photography by Shuichi Yamagata. This book is written by a Noh actor who is also a mask maker. He shares his love of this unique ancient drama form with the world. The photographs make the masks come out of the darkness and become alive
"Zombie Run" (Solstice) is a novel co-written by Dwayne Perkins and Koji Steven Sakai. It explores how to survive in a Zombie world and discover love along the way.
"The Gurkha and the Lord of Tuesday" (Tor.com) by Saad Z. Hossain. A compact story of a king who wakes up from imprisoned slumber only to find to his surprise that the city he  covets, has citizens unwilling to revolt.
"Grass" (Drawn & Quarterly) by Keum Suk Gendry-Kim is a graphic novel set for September 2019 release. This is the true story of a Korean comfort woman who documents how the atrocity of war devastates women's lives. A landmark graphic novel that makes truly personal the desperate cost of war and the importance of peace.
"Hello, Universe" (Greenwillow) by Erin Entrada Kelly. This Newberry Award-winner tells the story of a few kids whose lives collide in surprising and unexpected ways that enrich each of them.
A trio of Japanese American artists have created "442" (Little Nalu Pictures), a graphic novel that recounts the experiences of those in their community who served in the combat regiment that became the most decorated unit in the history of American warfare. Written by Koji Steven Sakai and Phineas Kiyomura and illustrated by Rob Sato.
"The Factory" (ND) by Hiroko Oyamada and translated by David Boyd. A Japanese novel  that looks at life in a factory from the perspective of three different characters. This surreal, modern fable dares to ask, "Where does the factory end and the rest of the world begin?" Set for October 2019 release.
"Take the Mic – Fictional Stories of Everyday Resistance" (Arthur A. Levine) edited by Behany C. Morrow. A powerful collection  of short pieces by some of the best young adult authors. Poems, prose and art that show how today's youth can resist injustice today.
"Who Is Afraid of Little Wolf?" (Prestel) by author/illustrator Yayo Kawamura is a board book for little ones that stresses the importance of overcoming prejudice and the power of friendship with colorful artwork of all the animals in the forest.
"Small Days And Nights" (Norton) by Tishani Doshi is this prize-winning poet's novel that tells the story of a young woman who returns home to Pondicherry after a failed US marriage to find she has inherited property in Madras, discovers a sister she never knew existed and must grow up fast to forge a life with meaning. Set for January 2020 release.
"A Life Made by Hand – The Story of Ruth Asawa" (Princeton Architectural Press) written and illustrated by Andrea D'Aquino. Imaginatively illustrated, this picture book tells the story of a pioneering Japanese American artist beloved in the Bay Area.
"RUSE" (Simon Pulse) is the thrilling sequel to "Want" by Cindy Pon. Set in a futuristic Shanghai. What happens when a group of teens lose a friend, kidnapped by their evil adversary?
"Queen of Physics – How Wu Chien Shiung Helped Unlock the Secrets of the Atom" (Sterling) by Teresa Robeson and illustrated by Rebecca Huang. Overcoming prejudice and obstacles, this famous physicist went on to make a large difference in the world. Another "shero" story for the kids.
"Changing And Unchanging Things: Noguchi And Hasegawa in Post War Japan" (UC Press) edited by Dakin Hart and Mark Dean Johnson. When the artist Isamu Noguchi returns to Japan for the first time in 20 years, it is 1950. A key figure for Noguchi during this period was fellow artist Saburo Hasegawa who had lived abroad in Paris in the 1930's and later influenced the American "Beats" about Japanese culture. Together the two artists explore traditional Japanese culture and how it can strike a balance between tradition and Western modernity. The exhibition catalog for a show  at the Asian Art Museum in San Francisco.
"Yao Bai and The Egg Pirates" (West Margin Press) by Tim J. Meyers and illustrated by Bonnie Pang. A story of resourceful Chinese immigrants who journeyed to the Farallon Islands to gather eggs to sell, only to be attacked by pirates. A story  taken from history that will enlighten the kids.
"Fake It Till You Break It" (Swoon Reads) by Jenn P. Nguyen. What happens when best friends pretend to be a couple in order to get their matchmaking moms off their backs only to realize they are really falling for each other?
"The Dinner That Cooked Itself" (Flying Eye) by J. C. Hsyu and Kenard Pak. Told in the form of a folktale from ancient China, a decent man longs for a bride but remains lonely until a fairy appears bearing fragrant gifts.
"A Life in a Sea of Red – Photojournalism  by Liu Heung Shing" (Steidl). This book captures half a century of documentation by this noted Chinese photographer of the changes in life in the former Soviet Union and China.
"Mya's long Walk – A Step At A Time" (Clarion) is by Linda Sue Park and illustrated by Brian Pinkney. It is the picture book companion to "A Long Walk To Water" and evokes the visceral fragility of living without access to fresh, clean water in the desert of South Sudan.
Art News/Opportunities
The Washington State Historical Society has given the Robert Gray Medal to Tom Ikeda, Founding Executive Director of Densho, in recognition of his tireless efforts to preserve and share the history of Japanese American WWII in carceration in Washington State and beyond.
Amazon's artist-in-residence program is open for 2020. The residencies include a $15,000 stripend and a studio on Amazon's campus. Deadline is August 22, 2019. Go to http://www.shunpike.org/programs-services/artist-in-residence/ for details.
Bamboo Ridge, Journal of Hawaii Literature & Art is looking for works of poetry and prose written for, by, or about Hawaii's unique people, places and culture for their forthcoming issue #18 Deadline is Sept. 30, 2019. Visit www.BambooRidge.com "Submissions" for information and details.
Nalini Iyer, IE contributing writer says her mother Seetha Narayanan is being honored with a Sangeeta Kalacharya Award (lifetime achievement award) by the Madras Music Academy for her contributions to music, especially as a teacher. The ceremony takes place on January 1, 2020 in Chennai, India.
For more arts, click here
[ad_2]

Source link